---
1. Jakie warunki musza zostać spełnione aby korzystać z usługi Battle.net
Aby korzystać z usługi Battle.net, twój komputer musi posiadać zainstalowany protokół TCP/IP i wspomaganie TCP/IP dla 32 bitowych aplikacji. Jeśli łączysz się z Internetem używając Windows Dial-up networking i używasz przeglądarki Netscape Navigator 2.0 lub wyższej bądź Microsoft Internet Explorer 3.0, to wtedy prawdopodobnie posiadasz już i masz zainstalowane właściwe oprogramowanie. Jednakże jeśli łączysz się z Internetem z zastrzeżonego numeru lub używasz Netscape 1.x lub innej 16 bitowej przeglądarki, wtedy najprawdopodobniej twój system nie jest skonfigurowany do obsługiwania aplikacji 32 bitowych. W takim wypadku skontaktuj się ze swoim dostawcą Internetu, aby uzyskać zaktualizowane oprogramowanie.
---
2. Jak połączyć się z Battle.net?
Aby połączyć się z Battle.net musimy najpierw zainstalować Diablo ;-) a następnie będziemy musieli zainstalować najnowszy patch do Diablo, który obowiązuje na Battle.net. Obecnie jest to patch v1.09 oraz dla systemu Windows NT patch v1.09b (oba Patche znajdują się w dziale Download). Teraz, gdy juz zainstalujemy patcha odpalamy grę Diablo i w menu głównym wybieramy opcję "Multiplayer", otworzy nam się teraz menu wyboru rodzaju połączenia internetowego w którym wybieramy "Battle.net". Gdy juz połączymy się z Battle.net, pozostaje nam założenie konta po czym zostaniemy "przeniesieni" na Kanał (czat) gdzie będziemy mogli stworzyć lub dołączyć do innych gier.
---
3. Jak stworzyć/dołączyć do gry?
Aby stworzyć grę klikamy na znajdujący się po lewej stronie czata przycisk "Create" (Stwórz) po czym wybieramy jeden z trzech poziomów trudności (Normal, Nightmare, Hell) oraz podajemy nazwę dla gry i ewentualnie hasło. Natomiast aby dołączyć do istniejącej gry klikamy na przycisk "Join" (Dołącz) i wybieramy rozgrywkę z listy dostępnych gier, lub wpisujemy nazwę danej gry.
---
4. Mogę czatować z innymi użytkownikami, jednak nie mogę dołączyć do gry.
Aby grać w Diablo używając trybu Multiplayer, twój system musi być zdolny do otrzymywania pakietów z danymi gry (technicznie, pakietami UDP) od innych graczy. Niektórzy dostawcy Internetu nie zezwalają na otrzymywanie danych tego typu lub nie zaopatrują użytkowników w unikalny adres internetowy na który mogą być przesyłane pakiety. Jeśli nie jesteś pewny czy dostawca nie blokuje tego typu połączeń, skontaktuj się z nim by uzyskać więcej informacji.
Jeśli próbujesz grać w Diablo poprzez komputer który znajduje się Firmie w której pracujesz lub innej organizacji, musisz pamiętać iż niektóre firmy blokują pewne typy danych przychodzących do ich sieci. By grać w Diablo w trybie Multiplayer używając Battle.net, być może będziesz musiał poprosić twojego administratora sieci by zezwolił na przychodzenie pakietów UDP do portu 6112.
5. Gdy próbuje się przyłączyć do istniejącej gry pojawia mi się komunikat jak na obrazku poniżej.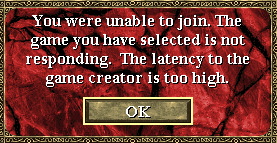 Komunikat ten oznacza ze osoba, która stworzyła grę, posiada nie skonfigurowaną zaporę ogniową (FireWall), która blokuje nam dostęp do założonej gry. Ten komunikat może się pojawić również wtedy, gdy zakładający grę posiada aktualnie kiepską jakość połączenia internetowego, lub nasze połączenie jest złej jakości.
6. Nikt nie może dołączyć do zakładanych przeze mnie gier.
Podobnie jak w punkcie 5 spowodowane to jest zazwyczaj nie skonfigurowanym FireWall'em lub kiepskim połączeniem internetowym, które może być spowodowane włączeniem różnego rodzaju programów P2P lub jednoczesna grą i pobieraniem plików z Internetu, przez co spada jakość aktualnego połączenia z Internetem. Aby usunąć ten problem należy w FireWallu odblokować port 6112 i zezwolić na "wszystko" plikowi Diablo.exe,
---
7. Łączenie się z Battle.net poprzez America Online
Aby połączyć się z Battle.net poprzez AOL, będziesz musiał użyć 32 bitowego klienta AOL dla Windows. Jeżeli nie jesteś pewien czy posiadasz odpowiednie oprogramowanie skontaktuj się bezpośrednio z AOL.
Również jeśli twoje połączenie AOL z Internetem często jest bardzo wolne, może to spowodować że gry multiplayer pomiędzy użytkownikami AOL i użytkownikami innych dostawców usług praktycznie nie będą się nadawały do gry.
8. Konto na Battle.net
Pamiętaj że nieaktywne konta są regularnie usuwane, więc jeśli stworzyłeś nowe konto, musisz załogować się na Battle.net na tak długo, by w ciągu pierwszych 48 godzin być aktywnym przez 2 godziny (Można to rozłożyć na kilka logowań, lub tez na jedna sesje). Po tym, twoje konto jest aktywne tak długo, jak długo logujesz się do niego przynajmniej raz w przeciągu 3 miesięcy.
---
9. Ile graczy może uczestniczyć w jednej grze?
W jednej grze może jednocześnie uczestniczyć 1-4 graczy.
10. Dlaczego na liście gier nie pokazują się wszystkie dostępne gry?
Aby móc zobaczyć daną grę na liście gier, muszą zostać spełnione pewne warunki, które zostały opisane w dziale "O Liście Gier".
---