PRZEDMIOTY W ŚWIECIE DIABLO
"Lecz ten, kto duszę mroczną i myśli plugawe skrywa
Owładnięty mrokiem, chodzi w słońcu południa
Sam jest swoim własnym lochem..."
-John Milton
BROŃ
Tylko dureń lub bardzo potężny mag ośmieliłby się zejść do labiryntu bez potężnej broni w rękach, Plotki głoszą, że w podziemiach kościoła można znaleźć wiele zaklętych przedmiotów, pozostałości wojny Horadrim przeciwko Trojgu
Miecze
Miecz jest najbardziej typową bronią wojownika, Wykute w ogniu i zahartowane dobre ostrze może łatwo rozpłatać zbroję lub powłokę cielesną demona. Niektóre klany wojowników z Khanduras posunęły się tak daleko, że porzuciły używanie innych rodzajów broni i tarcz preferują wielkie miecze tak długie, jak wzrost mężczyzny.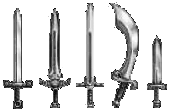 Topory
Ci, którzy poświęcają możliwości obrony na rzecz siły ataku preferują topory. Oprócz tego, że walczy się nimi nieco wolniej, niż za pomocą innych broni, topór musi być trzymany w obydwu rękach. Wyklucza to możliwość używania tarczy. Mimo to, żadna broń nie może dokonać tylu zniszczeń, co dobry topór. Legendy głoszą, że istniały niegdyś zaklęte topory zdolne przeciąć stal i ciało tak, jakby to było masło.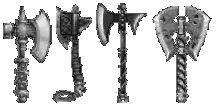 Buławy i Maczugi
Niekiedy najprostsze rzeczy są najlepsze. Beż względu na to, czy będzie to kawał drewnianego kloca, czy nabita kolcami maczuga, w rekach silnego wojownika będą one równie śmiercionośne. Sługusy Mefista -Nieumarli- mówili, że czas ciężko leczy połamane kości i zmiażdżone kończyny.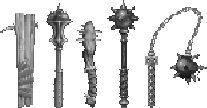 Laski
W Khanduras sztuka walki za pomocą magicznych lasek nigdy nie została zaakceptowana. Dawno temu Braterstwo Vizjerei odkryło metodę, która pozwoliła ze zwykłej, drewnianej laki uczynić pojemnik na skoncentrowaną energię magiczną. Mimo iż proces jej tworzenia jest bardzo czasochłonny, to nawet uczeń Vizjerei może napełnić ją koncentrując magiczną energię. Magiczne laski pozwalają na rzucanie czarów nawet nie znanych jej użytkownikowi i to bez korzystania z jego zasobów Many - aby rzucić taki czar, wystarczy jedynie trzymać laskę w rękach.
Ponadto, proces napełnienia laski magią polega na ofiarowaniu części własnej woli. tylko najbardziej biegli magowie mogą liczyć na to, że będą w stanie kontrolować bardzo mocarne magiczne laski. Możliwe jest także znalezienie lasek dodatkowo zaczarowanych, które są jeszcze bardziej efektywne w walce i/lub dodają użytkownikowi pewne specjalne zdolności.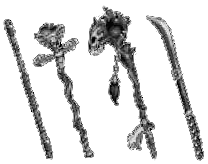 Łuki
Dla tych, którzy wolą razić z pewnej odległości, najlepszą bronią będzie łuk. Najlepszymi łucznikami na świecie są Siostry Niewidocznego Oka. Są one doskonale wyszkolone w używaniu wszelkiego sprzętu łuczniczego, od krótkich łuków używanych przez Jeźdźców Kaftan począwszy, na wielkich łukach bojowych używanych przez Północne Plemiona skończywszy. Jednak każda, nawet najlepiej wyszkolona Siostra wie, że w małych, ciasnych pomieszczeniach łuk nie może się równać z mieczem.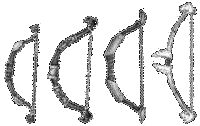 ZBROJA
Jeżeli chcesz przeżyć ataki różnych kreatur zamieszkujących labirynt, bardzo ważna jest zbroja. Nawet prosty, skórzany kaftan albo gruby płaszcz pomoże Ci uniknąć ostra broni lub pazurów demona i w ten sposób uchroni przed ranami. Zbroje można podzielić na trzy kategorie.
Lekkie Zbroje
W skład lekkich zbroi wchodzą proste ubrani, takie jak szaty, płaszcze aż do utwardzanych skórzanych kaftanów. Nawet owinięty w szmaty będziesz lepiej chroniony. Chociaż zbroje z tej kategorii oferują minimalne zabezpieczenie przed większością ataków są bardzo lekkie i niedrogie w naprawie.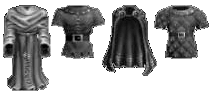 Średnie Zbroje
Do kategorii tej należą proste zbroje stalowe, takie jak kolczugi. W ogólności, oferują one dobre zabezpieczenie przed bezpośrednim atakiem, jednak ich ciężar powoduje, że dobrze się w nich czują jedynie silni bohaterowie.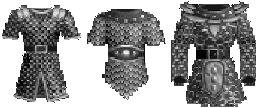 Ciężkie Zbroje
Większość ciężkich zbroi składa się z twardych metalowych płyt nałożonych na kolczugę. Rodzaj zbroi określany jest przez obszar chroniony przez metalowe płyty. Na przykład pancerz płytowy pokrywa płytami jedynie tors i ramiona przez co umożliwia maksymalna mobilność. Tylko najsilniejsi bohaterowie mogą nosić ciężkie zbroje. Są one również bardzo kosztowne w naprawach. Mimo to oferują one najwyższy poziom ochrony przed atakami fizycznymi, dlatego też noszący je wojownik jest niemalże niemożliwy do zatrzymania.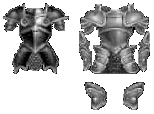 Hełmy
Nawet Prosta skórzana czapka może nie pozwolić na poznanie różnicy pomiędzy życiem a śmiercią, dlatego też dobrze jest nosić najlepszy hełm, na jaki nas stać. Wielu członków Horadrim nosiło korony z metali nie występujących w przyrodzie, co oddawało ich status, a ich magiczne właściwości stanowiły dodatkową ochronę.

Tarcze
Tarcze są bardzo popularne jako element ochronny i ozdobny Wyposażona w nią postać będzie w stanie automatycznie bronić się przed ciosami, a w chwili desperacji nawet nią uderzyć. W połączeniu z tarczami nie możną używać broni dwuręcznych takich jak topory, laski czy łuki.

Biżuteria
Drogocenne kamienie i metale nadają się doskonale do koncentracji energii magicznej. Chociaż dawno utracono większość wiedzy dotyczącej tworzenia takich talizmanów bądź jest ona zazdrośnie strzeżona przez Wschodnie klany magów, niekiedy można odnaleźć potężne pierścienie i amulety. Główna wada magicznych przedmiotów jest fakt, iż ich wpływy mogą się wzajemnie negować, przez co na jednej ręce możesz nosić tylko jeden pierścieni, na szyi zaś tylko jeden amulet. Największą zaleta pierścieni i amuletów jest fakt, że w walce są one niemożliwe do zniszczenia i nie musza być reperowane konserwowane tak jak zbroja.

Napoje
Jedną z najsilniejszych form magii znanych na Zachodzie jest warzenie eliksirów, które maja korzystny wpływ na pijącego Większość z tych napojów to napoje uzdrawiające, które w jednej chwili mogą zabliźnić ranę czy połączyć złamane kości. Napoje Mana zawierają czystą energię magiczna, przez co mogą odtworzyć zdolności rzucania czarów pijącego, który już wykorzystał całe swoje moce. Ponieważ mnisi niegdyś leczyli chorych i zranionych w starym kościele, z pewnością znajdziesz wiele takich napojów. Również mieszkańcy posiadający umiejętności zielarskie mogą być pomocni, gdyż mogą dostarczyć Ci niezbędnych napojów, oczywiście za godziwa cenę Wiadomo jest także, że najwięksi alchemicy Horadrim tworzyli dziwne mikstury, które wywierały trwały wpływ na pijącego.

Manuskrypty
Uważnie przygotowany zapisany magicznymi atramentami pergamin również może ogniskować magie, takie manuskrypty umożliwiają czytającemu rzucanie czarów, których normalnie nie zna, bez wydatkowania Many. W ten sposób nawet bardzo potężne zaklęcia mogą być czytane przez nowicjuszy, chociaż niektóre z nich mogą zawierać tajne symbole zbyt trudne do zrozumienia. Proces rzucania czasu wyciąga z manuskryptu cała magiczna moc i powoduje, że zamienia się on w pył.

Księgi
Dla maga księgi stanowią wierszą wartość ni z złoto. Mogą one zawierać pomoc do wykonywanych zadań, formuły czarów, lub inną wiedzę. czasy Horadrim uważa się za epokę największego rozwoju magii, epokę, w której dokonano niewypowiedzianych odkryć w dziedzinie sztuk tajemnych. Używano ich potem w celach ochrony rodzaju ludzkiego. Chociaż Zachodnie klany magów pilnie strzegą bibliotek pełnych magicznych tomów, uważa się, że większą część tej magii została zapomniana wraz ze śmiercią ostatniego z Horadrim. Jednak w podziemiach pod kościołem mogą znajdować się jakieś zaginione prace, dzięki czemu starożytna wiedza może ponownie ujrzeć światło dzienne...

Złoto
W trakcie, gdy w Khanduras panował długotrwały okres pokoju, większość miast i osad zgodziła się, by w handlu korzystać z standardowych złotych monet. Kościół Zakarum próbował także wprowadzić własna walutę, lecz nie zyskała on akceptacji. Chociaż wydaje się, ze sługi Trojga nie znaleźli zastosowania dla złotych monet, jednak wiele demonów gromadzi wszelkie bogactwa, jakie zdołają znaleźć.

---