INNE/NOWE BUGI/DZIWACTWA
W tej kategorii przedstawione zostały inne dziwne zjawiska występujące w Diablo 1, oraz materiały uzupełniające do bugów z pozostałych kategorii. Również będę tutaj umieszczał bugi/dziwactwa nadesłane przez czytelników Kroniki.
Storm.dll bug
Czasem. gdy znajdujemy się w rozgrywce, może nastąpić crash gry z informacja o błędzie storm.dll. Błąd ten pojawia się bardzo rzadko, i występuje podczas wysyłania wiadomości tekstowych do innych graczy.
Player ghost bug
W dziale Mediaplayer dostępny jest filmik prezentujący bug "Ducha" gracza. Więcej informacji o tym bugu przeczytacie w kategorii "LAGI I BUGI DESYNCHRONIZACJI".
Phasing Spell
Czasami przy rzuceniu czaru Phasing, wciąż pozostaniemy w tym samym miejscu nie ulegając teleportacji w losowe miejsce. Zdarza się tak wtedy, gdy jesteśmy otoczeni grubymi ścianami w skutek czego nie możemy zostać przeteleportowani, gdyż moglibyśmy wylądować wewnątrz grubej ściany. W dziele Mediaplayer został przedstawiony filmik pokazujący taka sytuację.
Town Portal
Z Portalem związane jest ciekawe zjawisko, otóż gdy będąc w Tristram staniemy w miejscu w którym pojawia się Portal i tym samym czasie inna osoba będąca w Podziemiach rzuci czar Town Portal, to nasza postać zostanie "wessana" w Portal i wyląduje po drugiej stronie czyli w Podziemiach. Filmik ukazujący to ciekawe zjawisko znajduje się w dziale Mediaplayer.
Błędne generowanie obiektów w podziemiach
Na poniższym screenie możemy zobaczyć Biblioteczkę (Bookcase), która została wygenerowana w ścianie. Jednak bez problemu można ją zaznaczyć i użyć.
Ujemne Hit Points
Czasem gdy zostaniemy zabici, po wskrzeszeniu/restarcie w miesicie możemy posiadać ujemną wartości HP. Poniższy screen przedstawia właśnie taka sytuację.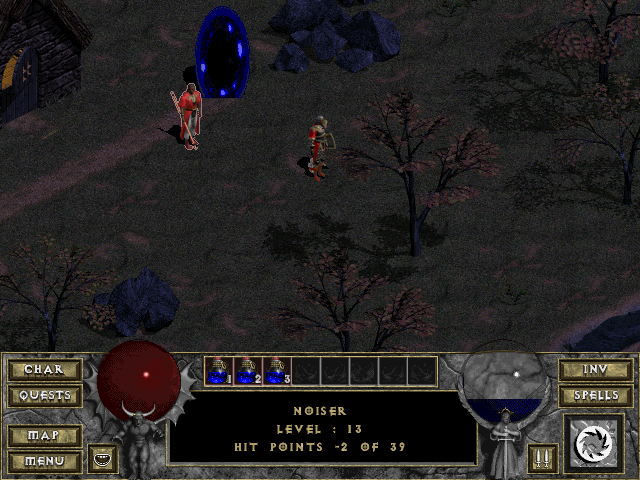 Zmienianie się unikatów
W trybie single player po rozpoczęciu nowej gry tą sama postacią, niektóre unikaty mogą zmienić się w inne/inny przedmiot lub po prostu się zepsuć. - dotyczy to unikatów questowych. Poniżej znajduje się screen nadesłany przez Melnevacor'a, który ukazuje zmieniony w ten sposób unikat Optic Amulet, który zmienił się w Veil of Steel/Potion of Mana. Po lewej stronie na screenie widzimy właściwości Veil of Steel, jednak z zerowymi właściwościami, natomiast w dolnym oknie panelu widnieje nazwa Potion of Mana która traktowana jest jako unikat. Również grafika Optic Amulet zamieniona została na grafikę Potion of Mana.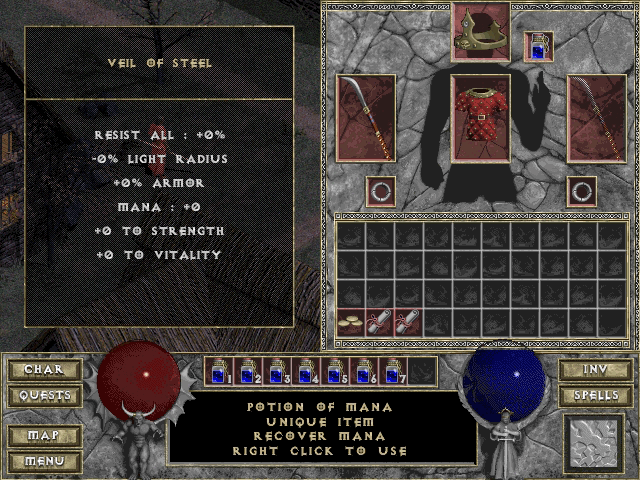 ---
Jeśli znalazłeś jakiś bug, dziwactwo w grze, który nie znajduje się w żadnej z wyżej wymienionych kategorii, posiadasz jakiś dziwny screen z gry, napisz do mnie maila z informacja o tym i sprawdzeniu przeze mnie danego zjawiska, być może zostanie ono dodane do kategorii "Inne dziwactwa"
Podziękowania dla:
Melnevacor - za screen dotyczący zmieniania się unikatów questowych.
Model - za otwarcie portalu przy kręceniu filmiku dotyczącego "wsysania w Town Potral".