W Styczniu 1998 roku firma Electronic Arts wydała grę Diablo w wersji przeznaczonej dla PSX czyli na konsole PlayStation. Konwersją gry z wersji PC na PSX zajęło się studio Climax Group a sama gra została wydana w Ameryce, Europie i Japonii. W poniższym artykule postaram się przybliżyć wam jakie były główne różnice pomiędzy wersją na PC/Mac a wersją przeznaczaną na konsole PlaysStation. Screeny z umieszczone w artykule były robione przy użyciu emulatora PSX, więc ich jakość nie jest zbyt dobra, gdyż emulatory nie radzą sobie zbyt dobrze z obsługą Diablo 1 na PS1.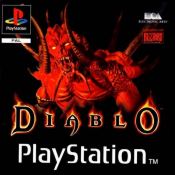 Nazwa: Diablo
Region: PAL / Europa
Developer: Climax Group
Wydawca: Electronic Arts
Numer seryjny: SLES-01156
Język: ENG, FRA, DEU, SWE
Data wydania: 15 kwietnia 1998
Kod kreskowy: 5030930016814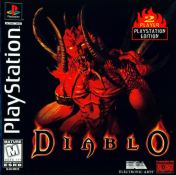 Nazwa: Diablo
Region: NTSC-U / Ameryka
Developer: Climax Group
Wydawca: Electronic Arts
Numer seryjny: SLUS-00619
Język: English
Data wydania: 11 marca 1998
Kod kreskowy: 014633078824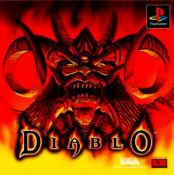 Nazwa: ディアブロ*
Region: NTSC-J / Japonia
Developer: Climax Group
Wydawca: Electronic Arts Victor
Numer seryjny: SLPS-01416
Język: Japanese
Data wydania: 9 lipca 1998
Kod kreskowy: 4938833004895
*W Japonii wydane zostało również Diablo w serii Playstation the Best z numerem seryjnym SLPS-91177
---
Po uruchomieniu gry na ekranie pojawia się logo Electronic Arts a następnie logo Blizzard Entertainment. Później wyświetla się intro, które wygląda identycznie jak w wersji dla PC. Jedyną różnicą jest sposób zakodowania obrazu i neico inna paleta barw. W Głównym Menu gry, pojawiły się nowe pozycje: Options oraz History.
Sekcja "History" zawiera historię Świata Diablo zawartą w "Libriarius Ex Horadrim" oraz "The Nature of the Soul Stones". Co ciekawe, obie pozycje są czytane rpzez narratowa z Diablo. W menu "Options" znajdują się preferencje konfiguracji gry. W sekcji "Language" mamy wybór języka gry, co nie było mozliwe w wesji PC/Mac. W Diablo na PSX w wydaniu europejskim mamy do wyboru w pełni zlokalizowane cztery wersje językowe; angielską, francuską, niemiecką i szwedzką. Istnieje również japońska wersja wydana w Japonii. W "Credits", zmieniło się tło, które teraz nie przedstawia tawerny, tylko kościół w Tristram. Natomiast pod pozycją "Help" znajduje się instrukcja dotycząca sterowania oraz innych opcji w grze.
W wersji na PlayStation możemy wybrac ocję gry dla jednego lub dwóch graczy. Możliwy jest równez wybór poziomu trudności, czego zabrakło w trybie Single Player w wersji na PC/Mac.
Zmianie uległ interfejs gry. Sfery życia i many zostały zastąpione dwoma "drgającymi" słupkami symbolizującymi życie i manę. Poniżej wskaźników życia i many znajduje sie pasek na mikstury i zwoje. Natomiast sfera znajdująca się ponad słupkami życia/many pokazuje symbol aktualnie używanego czaru.
W Tristram wprowadzona kilka zmian. Dodano ptaki... które odlatują w popłochu gdy się tylko do nich zbliżymy. Przy rzece rosną rośliny a postać odbija się w lustrze wody. Menu handlu i rozmów z NPC rónież zostało zmienione. U Adrii opcja kupna/sprzedaży została podzielna na Laski i Przedmioty (Buy Items, Sell Items, Buy Staves, Sell Staves). W Diablo na PC/MAc Adria skupowała i sprzedawała laski i przedmioty pod opcjami Buy Items Sell Items. Kolejną zmiana jest brak opcji leczenia się u Pepina, ponieważ Pepin uzdrawia nas automatycznie, takie samo rozwiązanie zostało wprowadzone wcześniej w dodatku do Diablo - Hellfire, który został wydany w 1997 roku.
Krowy w Tristram różnią się nieco ustawieniem w porównaniu do wersji na PC.
Teraz kilka słów o menu postaci, inventory, spellbook itd. Jako że konsola Playstation przystosowana jest do padem, to opcje te zostały umieszczone w specjalnym menu. Spell Book posiada 5 stron a nie 4, jak to ma miejsce w wersji na PC. Pięć stron nie oznacza jednak, że czarów jest więcej, tylko po prostu na jednej stronie w księdze czarów znajduje się mniejsza ilość zaklęć niż w wersji na PC. Zmieniona została również nazwa księgi czarów z SpellBook na Full Spell Book.
Podziemia wyglądają ładniej i posiadają znacznie większa palete barw. Nie jest to wadą a wręcz przeciwnie. Poruszając się po podziemiach nie zauważymy "kwadratów", z których zbudowane są poziomy. W wersji na PC często można było zauważyć coś takiego wokół bossów czy też na granicy promienia światła. Jeden z poniższych screenów przedstawia "arenę" na jakiej rozgrywa się duele w diablo 1. Wokół kolumn na arenie rozlokowane są pochodnie, co daje bardzo ładny efekt. Również ładnie wygląda animacja wypadającego złota, które się błyszczy. Tego typu efekty nie były dostępne w wersji na PC. Kolejną sprawą jest Automapa, która wygląda bardzo podobnie jak w wersji na PC. Zauważyłem jednak, ża strzałka pokazująca naszą lokacje na mapie, trochę zostaje z tyłu gdy jesteśmy w ruchu, jednak gdy sie zatrzymamy to powraca centralnie nad naszą postać.
Ataki usprawniono wprowadzając automatyczne namierzanie celu, zarówno w walce zwartej jak i dystansowej. Walcząc w zawarciu wybrany cel zostanie podświetlony, natomiast gdy mamy aktywowany jakiś czar, to pod nogami przeciwnika pojawi się "świetlisty obłok", który zaznacza potwora. Po zabiciu jakiegoś stworka świetlisty punkt automatycznie wyszukuje kolejny cel.
Co do Potworów to ich występowanie oraz zachowanie się potworów jest identycznie jak w wersji na PC. Przykładowo na 2 poziomie spotkałem Butchera i jak się okazało dał się zablokowac na schodach - podobna sztuczka działała w wersji na PC. W podziemiach występują również ci sami bossowie, którzy wyglądają prawie identycznie jak w wersji przeznaczonej na PC. W konsolowej wersji dostępny jest również Speedbook, któy różni się tym, że zaznaczony czar błyszczy się. Kolejnym ciekawym rozwiązaniem jest rzucanie niektórych czarów. Jednym z takich czarów jest Town Portal, gdyż rzucenie tego zaklęcia wiąże się z wyborem lokalizacji Portalu. Problem ten został rozwiązany w taki sposób, że przy rzucaniu czaru ukazuje się nam świetlisty punkt, który możemy przesunąć w dowolne miejsce znajdujące się na ekranie. W wersji na Playstation, na 16 poziomie zamiast Blood Knightów spotkamy nowe potwory - Hell Horror. Są to szkielety posiadające niewrażliwość na magię oraz odpornośc na ogień i błyskawice.
Podsumowując moge powiedzieć, że pod względem rozgrywki wersja na Playstation, nie różni się zbytnio od zwykłego Diablo. Potwory posiadają te same typy ataku, zachowują się tak samo, posiadają tyle samo HP i inne parametry. Szkielety podchodzą w ten sam sposób, boss Butcher daje się złapać na sztuczke ze "schodami", Fallen Ones uciekają gdy zabijesz jakiegoś potwora itd. - wszystko tak samo jak w wersji na PC. Jednak zdecydowaną różnicą jest sposów kierowania, gdyż do tego celu używamy pada i przez to wprowadzone zostały inne rozwiazania. Największe wrażenie robi jednak grafika gry, która w wersji na PSX wygląda zdecydowanie ładniej, przy jednoczesnym zachowaniu mrocznego "klimatu". Jednak jak w każdej grze nie obyło się bez błędów. Otóż jeśli znajdziemy jakikolwiek unikat, po czym zapiszemy grę a następnie wgramy ją od nowa, to posiadany przez nas unikat zamieni się w złoto, a pozostałe przedmioty pozostaną bez zmian. Istnieje również pewien sposób na duplikowanie przedmiotów. Mimo wszystko Diablo w wersji przeznaczonej na konsole Playstation gorąco polecam wszystkim, którzy jeszcze pogrywają w starego poczciwego "Diabełka" :-)
I na razie to by było na tyle... Jeśli znaleźliście jakieś błędy w powyższym artykule, macie jakieś sugestie lub materiały którymi chcielibyście sie podzielić, to śmiało piszcie do mnie na maila. Poszukuje również karty pamięci do emulatora z "gotową" wysokolevelową postacią, najlepiej, aby był to Mag. Jeśli ktoś ma taka kartę pamięci to również prosiłbym o kontakt mailowy.