FAQ - Czyli najczęściej zadawane pytania związane z Diablo
Polecam zapoznać się również z działem Faq-battle.net
1. Czy pierwsza część Diablo wymaga CD-Key?
Nie.
2. Czy Diablo 1 obsługuje tryb Multiplayer oraz Battle.net?
Tak. Aby dowiedzieć się więcej o trybie Multiplayer, należy zapoznać się z działem Multiplayer oraz Battle.net
3. Co muszę zrobić aby grać na Battle.net?
Najpierw musisz zainstalować Diablo ;-), później ściągnąć i zainstalować najnowszego patcha (obecnie na BN wymagany jest patch v1.09), Teraz uruchamiasz Diablo, w menu klikasz na Multiplayer, następnie wybierasz tryb połączenia - Battle.net i zostajesz połączony z serwerem Battle.net.
4. Dlaczego na liście gier nie widzę żadnej gry chociaż wiem, że istnieje kilka założonych gier.
a) Gry prywatne (gry które wymagają podania hasła) nigdy nie pojawiają się na liście gier, aby do nich dołączyć, należy wpisać nazwę takiej gry oraz wymagane hasło.
b) Na liście gier możemy zobaczyć tylko te gry, które zostały założone przez postacie, które posiadają podobny poziom do twojego. Zasięg lvl dla postaci dostępny jest w dziale Battle net - Lista gier.
5. Dlaczego nie mogę dołączać się do innych gier? Podczas dołączania do gry pokazuje mi się poniższy komunikat: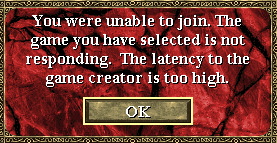 Przyczyna tego jest to iż osoba zakładająca grę posiada zablokowane porty 6112 (UDP i TCP), w wyniku czego dołączenie do gry założonej przez tą osobę jest niemożliwe. Zobacz również punkt 6.
6. Dlaczego nikt nie może dołączyć do założonych przeze mnie gier?
Przyczyna tego jest zapora ogniowa (FireWall) i zablokowane porty 6112 UDP i TCP. Aby inni gracze mogli dołączać się do założonych przez ciebie gier wystarczy, że odblokujesz port 6112. Informacje na ten temat znajdziesz w dziale Battle.net - Ustawienia Firewall.
7. Ściągnąłem obraz płyty ISO Diablo 1 z Internetu. Czy używając takiej wersji mogę grać na Battle.net?
To zależy… Jeśli jest to obraz oryginalnej gry Diablo 1, to bez problemu można grac na battle.net, natomiast jeśli jest to jakaś okrojona/shackowana wersja, czy tez jakaś wersja No CD to prawdopodobnie nie zostaniemy wpuszczeni na Battle.net.
8. Mam Diablo v1.09 No CD, dlaczego nie mogę grać na battle.net?
Prawdopodobnie masz zmodyfikowany plik Diablo.exe lub Storm.dll i przy łączeniu się z battle.net, wersja gry nie zostaje prawidłowo rozpoznana w skutek czego nie zostaniemy połączenie z battle.net.
9. Co oznaczają kropki przy portretach postaci na czacie battle.net?
Kropka (dot) przy portrecie postaci informuje nas o tym na jakim poziomie trudności postać zabiła Diablo. Jeśli postać nie ma Dota oznacza to, że dany gracz nigdy nie zabił Diablo, 1 dot oznacza ze gracz zabił Diablo na poziomie trudności normal, 2 doty na Nightmare i 3 doty na Hell.
10. Czy Diablo 1 posiada Open i Close Battle.net i gdzie zapisują się nasze postacie?
Pomimo iż w Diablo można grac battle.net to nie ma opcji wyboru Open i Close Battle.net a postacie zapisują się w folderze z grą.
11. Czy jest możliwość sprawdzenia czy gram z uczciwym graczem oraz czy sam posiadam legalne przedmioty?
Tak, aby to sprawdzić należy posłużyć się skanerem postaci Diablo Guard lub Diablo Saver, który skanuje nasze oraz inne postacie znajdujące się w danej grze pod względem legalności.
12. W jaki sposób mogę zrobić backup swoich postaci (kopie zapasowa)?
Backup można zrobić poprzez:
a) Można po prostu skopiować pliki postaci, które znajdują się w folderze z grą. Pliki te posiadają rozszerzenie *.sv np multi_X.sv (dla multiplayer) i single_X.sv dla single player gdzie "X" to liczba od 0 do 9 która oznacza numer postaci.
b) Można także użyć program Diablo Saver. Po rozpoczęciu gry należy zminimalizować Diablo (Alt+TAB) następnie uruchomić Diablo  Saver po czym w programie wybieramy opcje "Save" i zapisujemy postać na dysku. Postać wczytujemy wybierając w Diablo Saverze opcje "Load".
13. Czym jest Diablo Spawn/Shereware i czy posiada battle,net?
Jest to demonstracyjna wersja Diablo w której dostępna jest tyko jedna postać – Warrior. Używając tej wersji możemy grac na battle.net, jednak nie możemy dołączać do gier założonych przez graczy używających zwykłego Diablo.
14. Czy istnieje jakiś dodatek do Diablo?
Tak, nazywa się on Hellfire i został zrobiony przez Synergistic Software i wydany w 1997r przez Sierra On-Line (Sierra Entertainment).
15. Czy Hellfire posiada tryb multiplayer i czy można grać na battle.net?
I tak i nie ;-). Oficjalnie Hellfire nie obsługuje trybu multiplayer, jednak po zainstalowaniu patcha 1.01 i skopiowaniu do folderu shackowanego pliku HellfireUI.dll udostępniona zostaje nam opcja Multiplayer jednak niestety nie ma możliwości gry na battle.net.
16. Słyszałem że w Hellfire są jakieś ukryte postacie i questy czy to prawda?
Tak. Po zainstalowaniu patcha 1.01 i skopiowaniu do folderu hellfire pliku command.txt, w którym znajdować się będzie odpowiednia formułka, to udostępnione zostaną nam dodatkowe postacie (Bard i Barbaria) oraz dodatkowe zadania. Więcej informacji na ten temat znajduje się w dziale command.txt
17. Czy w Diablo 1 istnieje Cow Level?
Nie! W Diablo 1 nie ma Krowiego poziomu. Cow Lvl w d1 to tylko plotką
18. Przy naciskaniu kombinacji klawiszy Alt+Tab popsuły mi się kolory w grze. Jak to naprawić?
Spróbuj ponownie nacisnąć Alt+Tab i wróć do gry – kolory powinny być już naprawione.
19. Czy istnieje jakiś sposób aby sprawdzić czy posiadam legalne przedmioty?
Tak, możesz pobrać jakiś skaner postaci np. Diablo Guard lub Diablo Saver. Skanery można pobrać tutaj.
20. Nie chcę oglądać końcowego filmu, który pojawia się po zabiciu Diablo. Czy jest możliwe aby go wyłączyć?
Wyłączenie filmu nie jest możliwe ale można zrobić mały trick:
a) Po zabiciu Diablo szybko kliknij ESC i wybierz New Game – zostaniesz przeniesiony na czat battle.net (Nie dostaniesz również dota)
b) W folderze gry znajduje się plik o nazwie SMACKW32.DLL – usunięcie tego pliku lub zmiana jego nazwy spowoduje iż w grze przestana pojawiać się filmy. Aby ponownie móc oglądać filmy wystarczy ponownie wgrać go do katalogu z grą.
c) Zaraz po zabiciu Diablo lub po włączeniu się filmiku naciśnij klawisze Alt+TAB by zminimalizować Diablo po czym wróć do gry wybierając Diablo z paska lub ponownie kliknij ALT+TAB.
21. Czy jest możliwość gry bez płyty CD w napędzie?
Tak, jest kilka sposobów.
a) Robisz obraz płyty i grasz z obrazu a CD trzymasz w szufladzie :-)
b) Kopiujesz z płyty plik diabdat.mpq do folderu z grą diablo, następnie ściągasz patcha No-CD, podmieniasz plik Diablo.exe i już można grac bez płyty. Jednak z takiej wersji nie połączysz się z battle.net
c) Kolejnym sposobem jest użycie pliku DiabloSaver.dat lub DiabloGuard.dat znajdują się one odpowiednio w programach Diablo Saver oraz Diablo Guard. Sposób wykonania jest następujący:
Najpierw kopiujemy z płyty CD folderu z grą Diablo 1 plik o nazwie diabdat.mpt. Teraz uruchamiamy Diablo, gdy pokaz się komunikat o braku płyty w CD minimalizujemy diablo (Alt+Tab)  Otwieramy plik np DiabloSaver.dat za pomocą programu Diablo Hacking Utility v2.13 i wybieramy "Play v1.09 Off HD" (dla patcha 1.09), teraz wracamy do Diablo i klikamy "OK" przy komunikacie o braku płyty w CD i juz możemy grać. Jeśli chcemy wejść na battle.net, to ponownie musimy zminimalizować Diablo i wyłączyć aktywowane "Play v1.09 Off HD" i wtedy będziemy mogli połączyć się z serwerem Battle.net.
22. Na jakie platformy zostało wydane Diablo 1?
Diablo 1 wydane zostało na Komputery PC, Komputery typu Macintosh oraz konsole Playstation (PSX).