Użytkownicy systemu Windows 7 lub Windows Vista często narzekają na problem związany z kompatybilnością (zgodnością) starszych gier do których zalicza się również gra Diablo 1. Stare gry dobrze działały w systemach operacyjnych takich jak Windows 9x czy Windows XP, niestety w nowych systemach pojawiają się pewne problemy. Najpopularniejszy z nich to nieprawidłowe wyświetlanie kolorów w grze Diablo 1 na Windows 7. Problem związany z kolorami objawia się tym, iż po uruchomieniu gry, na ekranie pojawiają się kolorowe piksele błędnie odwzorowujące obraz gry. Wygląda to tak, jakby gra korzystała z innej palety kolorów.
Poniżej przedstawię kilka sposobów prawidłowego uruchomienia gry Diablo 1 i Hellfire w systemie Windows 7. Poniższe metody mogą działać również z innymi starszymi grami takimi jak np. StarCraft czy Age of Empires
---
Poniżej oficjalne rozwiązanie problemu działające tylko z grą DIablo 1.
Diablo 1 Windows 7 Fix
Poniżej zostało zaprezentowane oficjalne rozwiązanie problemu z kolorami w Diablo 1. Jeśli grasz w Diablo 1 w systemie Win 7 i na ekranie pojawiają się wyblakłe kolory lub ekran przebarwiony jest kolorami tęczy, to problem ten może rozwiązać wgranie pliku z kluczem rejestru (Reg, który naprawi problem z DirectDraw.
Poniżej do pobrania dwa pliku rejestru w zależności od wersji twojego systemu.
32-bit Windows 7 - POBIERZ
64-bit Windows 7 - POBIERZ
Pobierz plik na dysk, następnie kliknij na nim dwukrotnie i następnie zatwierdź dodanie klucza do rejestru. Teraz już możesz uruchomić grę.
Jeśli nie wiesz lub nie jesteś pewny jaką wersję systemu posiadasz 32 bit czy 64 bit , kliknij na "Menu start" następnie prawym przyciskiem na "Komputer" i wybierz "Właściwości". Powinno otworzyć się okno zawierające informacje na temat wersji twojego systemu (32-bit lub 64-bit).
Uwaga: Powyższy klucz rejestru działa tylko z Diablo w wersji 1.09, dlatego jeśli masz wcześniejszą wersję gry to tryb kompatybilności nie będzie działał. To rozwiązanie nie również nie działa na filmy z gry. Ponadto minimalizowanie gry poprzez kombinację klawiszy Alt+Tab może (ale nie musi) spowodować powrót popsutych kolorów w grze.
---
Hellfire Windows 7 Fix
Poniżej znajduje się plik reg rozwiązujący problem z kolorami dla Hellfire.
32-bit Windows 7 - POBIERZ
64-bit Windows 7 - POBIERZ
Uwaga: Nie jest to oficjalne rozwiązanie. Plik testowany był na Hellfire v1.01.
---
Poniżej kilka innych nieoficjalnych metod naprawiających problemy z kolorami w starszych grach uruchamianych na Win 7
---
Metoda 1. Zamknięcie explorera
Najskuteczniejszą metodą usuwająca problem dotyczący kolorów w Diablo 1 jest po prostu zamknięcie explorera. W tym celu należy otworzyć Menedżer zadań i w zakładce Procesy zaznaczyć proces explorer.exe a następnie kliknąć przycisk Zakończ proces. Ja jednak przedstawię alternatywne rozwiązanie, czyli stworzenie pliku wsadowego *.bat, który będzie nam automatycznie zamykał i otwierał proces explorer.exe. W tym celu należy stworzyć nowy dokument tekstowy i wkleić do niego poniższy kod:
@echo off
taskkill /f /im explorer.exe
diablo.exe
pause
start explorer.exe
exit
Teraz dokument tekstowy należy zapisać jako plik o rozszerzeniu bat, lub po prostu zmienić jego rozszerzenie z txt na bat. Trzecia linia powyższego kodu wskazuje nam lokalizację pliku diablo.exe, więc aby plik zawierający powyższy kod poprawnie zadziałał należy go umieścić w katalogu z grą diablo (w tym samym katalogu gdzie znajduje się plik Diablo.exe). Gotowy plik zawierający powyższy kod możecie pobrać poniżej, jednak należy pamiętać aby umieścić go w tym samym katalogu w którym znajduje się plik Diablo.exe, czyli bezpośrednio w folderze z grą. Natomiast grę uruchamiamy poprzez dwukrotne kliknięcie w nowo utworzony plik o rozszerzeniu *.bat.
Diablo.bat - Kliknij by pobrać
---
Metoda 2. Ustawienie kompatybilności (Zgodności systemu)
Kliknij prawym przyciskiem myszy na pliku Diablo.exe i wybierz opcję Właściwości
Przejdź teraz do zakładki Zgodność
W sekcji Ustawienia zaznacz:

Uruchom w 256 kolorach
Uruchom w rozdzielczości 640x480
Wyłącz kompozycje wizualne
Wyłącz kompozycję pulpitu

Ustaw tryb zgodność z Windows XP Sernice Pack 3 albo Windows 95
Można również zaznaczyć opcję "Uruchom ten program jako administrator"
Kliknij OK
Kliknij prawym przyciskiem myszy na pulpicie i wybierz opcję Rozdzielczość ekranu (Windows 7) lub Personalizuj (Windows Vista) i pozostaw to okno otwarte
Teraz uruchom grę Diablo 1
Poniżej znajduje się obrazek pokazujący jak powinny wyglądać ustawienia zgodności systemu.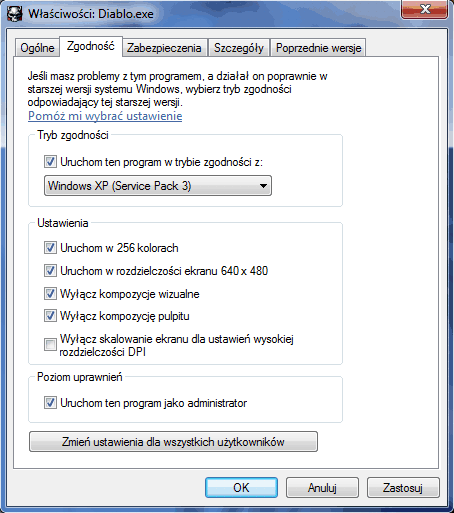 ---
Metoda 3. Użycie jakości kolorów ustawionych na 16 bit.
Kliknij prawym przyciskiem myszy na pulpicie i wybierz opcję Rozdzielczość ekranu (Windows 7) lub Personalizuj (Windows Vista) oraz Ustawienia obrazu (Windows Vista).
Kliknij Zaawansowane.
Wybierz teraz zakładkę Monitor.
Wybierz jakość kolorów High Color (16-bit).
Kliknij Zastosuj
---
Metoda 4. Użycie maszyny wirtualnej.
Do rozwiązania problemu można również użyć maszyny wirtualnej na której można zainstalować osobny system operacyjny np. Windows 95/98, Windows XP itp. Przykładowo można do tego celu użyć darmowego VirtualBox lub komercyjny VMware Workstation. Należy jednak pamiętać że uruchomienie wirtualnej maszyny na słabszych komputerach może spowodować spadek wydajności komputera podczas pracy wirtualnego PC.