W roku 1996 w majowym wydaniu magazynu PC Gamer, pojawił się prosty konkurs dotyczący nowej wciąż jeszcze tworzonej gry Diablo. Zabawa polegała jedynie na przesłaniu swojego imienia i nazwiska a nagrodą było umieszczenie danej nazwy w grze.
Kilkanaście lat później 19 grudnia 2011 roku w serwisie reddit.com użytkownik o nicku blooberrys napisał, że nazywa się Deckard Cain Elder i od jego imienia pochodzi nazwa postaci w Diablo. Przedstawił również ciekawą historię zgłoszenia jego imienia i nazwiska do konkursu.
Informacje te, zostały potwierdzone przez ówczesnego community managera z Blizzarda - Bashioka. Również David Brevik na konferencji GDC 2016 powiedział, że imię postaci Deckard Cain The Elder zostało wybrane w konkursie umieszczonym w magazynie o grach wideo. Poniżej znajduje się wpis z Reddita oraz informacja o konkursie z 1996 roku.
Jestem Deckard Cain the Elder z Diablo.

Nazywam się Deckard Cain Elder i mam 16 lat. Gdy byłem dzieckiem Blizzard zorganizował konkurs związany z Diablo. Wiadome było, że aby wziąć udział w konkursie wystarczyło wysłać pocztówkę do Blizzarda wraz ze swoim imieniem i nazwiskiem a po wymienionej dacie wybierano losową kartkę, która wygrywała nagrodę. Mój ojciec był wielkim fanem Blizzarda, więc zdecydował się wziąć udział w konkursie. Zastanowił się chwile i stwierdził, że skoro moje imię jest tak unikalne, to wyśle kartkę z moim imieniem zamiast jego. Moje pierwsze imię pochodzi od postaci w którą wcielił się Harrison Ford w filmie Łowca Androidów, moje drugie imię to nazwisko panieńskie mojej matki a ostatni człon nazwiska to nazwisko ojca.

List od Billa Ropera

Minęło 4 lub 5 miesięcy po tym jak mój ojciec wysłał pocztówkę do Blizzarda i zdążył już o tym zapomnieć. Więc ze względu na okres czasu jaki minął od wysłania pocztówki, uznał że nie zdobył tej nieznanej nagrody. Po około 6 miesiącach od konkursu, do moich rodziców, którzy mieszkali w Południowej Dakocie, przyszła paczka. Jako, że nic nie zamawiali, byli ciekawi co to jest. Gdy otworzyli pudełko, znajdowało się tam pięć przedmiotów. Długa żółta koperta, gra Diablo, czarny kapelusz z niebieskim logiem Blizzarda, bardzo duży T-Shirt i niebieska figurka Diablo, który stał na małej podstawie. Wewnątrz koperty znajdował się list od Bllia Ropera, producenta Diablo, który napisał że zostałem wybrany w konkursie. (...) Generalnie list wyjaśniał, że nagrodą w konkursie było użycie mojego imienia w grze. Tak naprawdę, to czuję, że z powodu mojego wyjątkowego imienia, gdy Blizzard zobaczył je na pocztówce, to pomyślał że pasuje do nazwy postaci, której szukają. Tak czy inaczej, jest to naprawdę super. Więc jeśli kiedykolwiek zastanawialiście się jak blizzard nazwał Deckarda Caina, to już wiecie.
Figurka Diablo

Drogi Deckardzie,

Gratulacje! Twoja kartka pocztowa została wybrana jako zwycięzca konkursu w magazynie PC Gamer "Name in The Game" organizowanym przez Blizzard Entertainment dla Diablo. Jak zauważysz, miejski starzec w pobliżu fontanny znajdującej się w centrum Tristram jest twoim imiennikiem.

Dołączamy również bezpłatną kopię Diablo, wspaniały zestaw Blizzarada oraz specjalnie dla ciebie posąg Diablo. Ten posąg został stworzony specjalnie na potrzeby tego konkursu i jest identyczny jak ten w naszym biurze w Blizzardzie.

Jeszcze raz gratulacje!

Bill Roper
Producent Diablo
Blizzard Entertainment
Konkurs Diablo
Znajdź Siebie w Piekielnej Grze!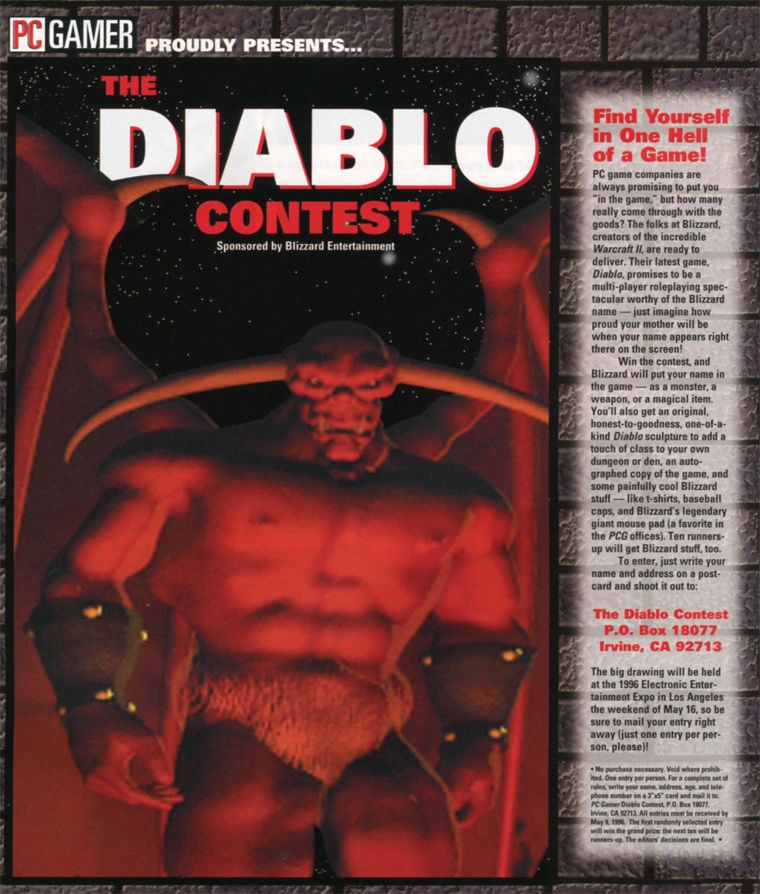 Firmy produkujące gry komputerowe zawsze obiecują, że umieszczą cię "w grze", lecz ile tak naprawdę to robi? Ludzie z Blizzard, twórcy niesamowitego Warcraft II, niebawem wydadzą nową grę. Ich najnowsza gra - Diablo, zapowiada się na spektakularną sieciową grę RPG, godną nazwy Blizzard – wyobraź sobie jak dumna z ciebie będzie mama, gdy twoje nazwisko pojawi się na ekranie! Wygraj konkurs a blizzard umieści twoje nazwisko w grze – jako potwora, broń lub magiczny przedmiot. Otrzymasz również jedyną swego rodzaju rzeźbę Diablo, którą umieścisz w swym lochu lub siedlisku, kopię gry wraz z autografami i trochę Blizzardowych gadżetów, takich jak koszulki, czapeczki i legendarną Blizzardową podkładkę pod mysz (ulubioną w biurze PCG). Dziesięciu finalistów również otrzyma gadżety od Blizzarda.
Aby wziąć udział w konkursie, wystarczy napisać swoje imię i adres na kartce pocztowej i wysłać ja do:
The Diablo Contest
P.O Box 18077
Irvine, CA 92713
Wielkie losowanie odbędzie się na targach 1996 Electronic Entertainment Expo w Los Angeles podczas weekendu 16 Maja, więc już wyślij swoje zgłoszenie (prosimy przesyłać tylko jedno zgłoszenie na osobę)!!
* Brak konieczności zakupu. Występują pewne ograniczenia. Jedno zgłoszenie na osobę. By dopełnić wszystkich warunków, napisz swoje imię, adres, wiek, i numer telefonu na kartce o wymiarach 2"x5" i wyślij do PC Gamer Diablo Contest, P.O Box 17077, Irvine, CA 92713. Wszystkie zgłoszenia musza dotrzeć do 9 maja 1996. Pierwsze losowo wybrane zgłoszenie wygra nagrodę główną a kolejne dziesięć pozostałe nagrody. Decyzja redakcji jest ostateczna. *