Siły zła są nieprzeliczone, jednak nie musisz stawiać im czoła sam. Diablo pozwala, by w podróż po labiryntach Tristram wyruszyło do czterech graczy - jako przyjaciele lub wrogowie. Postacie, w które się można wcielić, są inne od tych używanych w grze indywidualnej. W trakcie gier zespołowych stan gry jest zachowywany automatycznie w trakcie gry, dlatego też opcje "Save" i "Load" nie są dostępne w głównym menu.
---
Pasek Interfejsu w Grze Multiplayer
W trakcie gry wielu graczy, na pasku interfejsu znajdują się dwa dodatkowe przyciski: przycisk wiadomości i przycisk intencji. Aby w trakcie gry wielu graczy wysłać wiadomość do innych, przyciśnij przycisk wiadomości lub naciśnij klawisz Enter. Ponowne kliknięcie na przycisku wiadomości lub naciśnięcie klawisza Enter spowoduje wysłanie wiadomości. Na ekranie wiadomości możesz także włączyć lub wyłączyć wysyłanie widomości do poszczególnych graczy, co pozwoli na wysyłanie wiadomości sekretnych, niedostępnych dla pozostałych. Jeżeli chcesz móc szybko wysyłać najczęściej przesyłane wiadomości, możesz wykorzystać, klawisze F9-F12 służące do wysyłania predefiniowanych tekstów.
Przycisk intencji gracza pozwoli określić jak Twój bohater reaguje na innych członków gry. Klikniecie na nim lewym przyciskiem myszy powoduje jego zmianę z nastawienia agresywnego

na pokojowe

i z powrotem. Nastawienie agresywne oznacza, że Twój bohater będzie traktował innych graczy jak wszystkie kreatury zamieszkujące labirynt i atakował je, jeżeli klikniesz na nich lewym przyciskiem myszy. Jeżeli w trakcie gry zdecydujesz sobie udzielać wsparcia, dobrze jest wybrać nastawienie pokojowe - wtedy lewe kliknięcie na postaci innego gracza nie spowoduje ataku, ani nie będzie on bezpośrednim celem działania czarów.
Uwaga: inni gracze mogą nadal zostać trafieni strzałą lub ulec działaniu czaru, nawet jeśli nie stanową jego bezpośredniego celu - jeżeli walczycie w małych pomieszczeniach, zachowajcie należytą ostrożność
---
Kopie "Rozmnożone" Diablo (Diablo Spawned)
Oprogramowanie gry Diablo jest w stanie skopiować na inne systemy własną wersję "shareware", która umożliwia grę bez oryginalnej płyty z grą. Takie kopie Diablo pozwalają na grę wielu graczy wcielających się w postacie wojowników także za pośrednictwem serwera Battle.net. Tylko takie "rozmnożone" ("spawned") wersje Diablo mogą brać udział w grze przeciwko sobie, w grach wielu graczy zainstalowane w sposób normalny i "rozmnożony" nie będą widziały siebie nawzajem.
Uwaga: "rozmnożona" kopia Diablo będzie zajmowała więcej miejsca na dysku twardym niż zainstalowana w normalny sposób, ponieważ konieczne jest przegranie na niego wszystkich niezbędnych plików danych
---
W tym miejscu musimy jeszcze wspomnieć, że jakość gry wielu graczy zależy bardzo od jakości połączenia między wszystkimi komputerami, za pomocą których grają gracze. Intensywny ruch sieciowy, wadliwe okablowanie, szumy, duże opóźnienia i inne czynniki tego typu mogą wpłynąć w negatywny sposób na wydajność i niezawodność gry.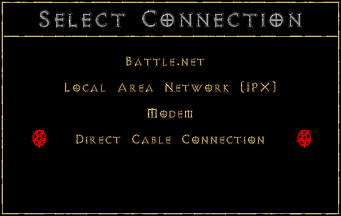 ---
Połączenie bezpośrednie (Direct Connection)
Możliwa gra: od 1 do 4 graczy.
Wymagania: 2 lub więcej komputerów połączonych poprzez ich porty szeregowe za pomocą kabla modemu zerowego.
Aby rozpocząć grę, jeden gracz musi wybrać opcję "Create Game". Po rozpoczęciu gry, połączy ona pozostałe komputery. Jeżeli gracz nie połączy się automatycznie, wybierz opcję "Retry Connection", aby spróbować jeszcze raz.
Problemy: Upewnij się, że posiadasz odpowiedni kabel, i uważnie sprawdź wszystkie połączenia. Jeżeli korzystasz ze specjalnego adaptora, upewnij się, że tylko z jednego. Kabel należy podłączyć do portów szeregowych (COM) każdego komputera a nie do portu równoległego drukarki (parallel). aby zobaczyć, czy komputery komunikują sie ze sobą, można użyć programu terminalowego, takiego jak np. zawarty w Windows 95 Hyperterminal. Upewnij się także, że nie występują konflikty sprzętowe miedzy wykorzystywanymi portami szeregowymi a innymi elementami systemu.
Kabel modemu zerowego (null-modem): specjalny rodzaj kabla szeregowego (9 lub 26 pionowego), którym można połączyć dwa komputery przez ich porty szeregowe (COM). By otrzymać kabel modemu zerowego można dołączyć także specjalny adaptor. Ze względu na utratę jakości sygnału, zaleca się używać kabli tego samego typu dłuższych niż 9 metrów.
---
Połączenie Modemowe (Modem Connection)
Możliwa gra: 2 graczy.
Wymagania: 2 komputery, każdy podłączony do sieci telefonicznej za pomocą modemu.
Jeżeli masz w swoim systemie zainstalowany jeden modem, w momencie wybrania rodzaju połączenia jako połączenie modemowe, zostanie on automatycznie wybrany. Jeżeli masz ich więcej, będziesz musiał wskazać ten, którego zamierzasz używać.
Gracz inicjujący połączenie powinien wybrać opcję "Call" i podać numer telefonu drugiego gracza. Drugi gracz z kolei powinien wybrać opcję "Answer" i czekać, aż pierwszy się z nim połączy. Jeżeli modemy są ustawione prawidłowo, program automatycznie wykryje i nawiąże połączenie.
Problemy: Przed nawiązaniem połączenia należy właściwie skonfigurować modem za pomocą panelu kontrolnego "Modemy" ("Modems") znajdującego się w Panelu Sterowania Windows 95. Otwórz panel sterowania i wybierz te opcję. Wyświetl kartę "Diagnostyka" ("Diagnostics") i wskaż modem, który ma zostać przetestowany. jeżeli w trakcie testu wystąpią błędy, skontaktuj się z producentem modemu.
---
Połączenie za pośrednictwem sieci i protokołu IPX (IPX Network Connection)
Możliwa gra: od 1 do 4 graczy.
Wymagania: 1 lub więcej komputerów podłączonych do sieci wykorzystującej protokół IPX.
Aby utworzyć grę wybierz opcję "Create". Gra zostanie nazwana imieniem Twojej postaci, przez co możliwe będzie łatwe odróżnienie wielu gier przez włączających się graczy.
Problemy: Zbadaj ustawienia protokołu IPX/SPX w panelu kontrolnym "Sieć" ("Networks"). Jeżeli będziesz miał kłopoty z ustawieniami, skontaktuj się z administratorem sieci. Sprawdź wszystkie fizyczne połączenia sieciowe, Zauważ, że Diablo będzie działał tylko w jednym segmencie sieci. Zapamiętaj, że nazwa gry wywodzi się od imienia postaci gracza, który ja zainicjował.
Sieć IPX: grupa komputerów wyposażonych w karty sieciowe i połączone okablowaniem, które komunikują się między sobą za pomocą protokołu IPX.
---
Połączenie przez Battle.net.
Możliwa gra: 1-4 graczy.
Wymagania: 32-bitowe połączenie TCP/IP z siecią Internet. Może być to podłączenie za pośrednictwem sieci telefonicznej lub bezpośrednie.
Battle.bet jest usługą rozrywkową świadczona poprzez sieć Internet formy Blizard Entertaiment. Pozwala on graczom z całego świata odbywać wspólne przygody a także walkę między sobą. Jako metodę połączenia wybierz "Battle.net". Jeżeli Twój komputer łączy się z siecią Internet za pośrednictwem sieci telefonicznej, Diablo automatycznie nawiąże połączenie z firma udostępniającą. Po nawiązaniu połączenia z Battle,net będziesz mógł porozmawiać z innymi graczami na temat utworzenia i przyłączenia się do gry. Po naciśnięciu klawisza F1 będziesz miał dostąp do różnych specjalnych informacji.
Problemy: Jeżeli Twój komputer nie jest skonfigurowany do pracy w sieci za pośrednictwem połączenia telefonicznego, przed uruchomieniem gry będziesz musiał nawiązać takie połączenie z firma udostępniającą Internet, w której masz konto. Możesz skontaktować się także z przedstawicielem tej formy, by dowiedzieć się, jakie wysterują opóźnienia w połączeniach oraz czy używasz oprogramowania 32-bitowego. Połączenia o dużych opóźnieniach mogą spowodować niestabilną grę.
32-bitowe połączenie TCP/IP: Generalnie jeżeli jesteś w stanie używać najnowszej wersji Netscape Navigator i/lub Microsoft Internet Explorer, możesz korzystać z 32-bitowwych aplikacji sieciowych. Jeżeli nie jesteś pewien, czy możesz korzystać z takich połączeń, skontaktuj się z firmą oferującą CI dostęp do sieci Internet.
Małe opóźnienie: "opóźnienie" jest miarą czasu niezbędnego, by twój system wysłał i otrzymał informacje poprzez sieć. Aby zapewnić sobie wystarczającą jakość gry przez Battle.net, Blizzard zaleca, by Twoje połączenie miało opóźnienie mniejsze niż 500ms. Aby dowiedzieć się, jakie opóźnienia wnosi Twoja sieć, skontaktuj się z firmą oferującą Ci dostęp do sieci Internet.
Uwaga: Hellfire nie obsługuje połączenie poprzez Battle.net
---
Połączenie poprzez sieć AppleTalk
Możliwa gra: 1-4 graczy.
Wymagania: 1 lub więcej komputerów Macintosh połączonych z aktywną siecią Apple Talk.
By stworzyć grę kliknij "Create". Nazwa utworzonej gry będzie bazowała na imieniu twojej postaci. Gracz chcący połączyć się z twoja gra będzie musiał znać nazwę gry.
Jeśli twoja sieć posiada więcej niż jedną strefę AppleTalk (AppleTalk Zone), wtedy kliknij na "Wybierz Strefę" (Choose Zone), aby wybrać strefę w której Diablo będzie poszukiwał gry. Zauważ, że Diablo w tym samym czasie może widzieć gry tylko w jednej strefie AppleTalk.
Problemy: Sprawdź ustawienia dla swojej sieci "Apple Talk" lub "Sieci" w panelu sterowania: Pamiętaj, że nazwa gry jest oparta na imieniu postaci gracza, który ją utworzył.
Uwaga: Hellfire nie obsługuje połączenie poprzez Apple Talk.
---
Gry toczone w sieciach IPX, AppleTalk i poprzez serwer Battle.net są dynamiczne. to znaczy że gracze mogą w każdej chwili włączać się i opuszczać grę tak długo, jak bierze w niej udział tylko jeden gracz. Gracze nie mogą przyłączać się do gry, jeżeli bierze w niej udział już 4 graczy. Jeżeli wszyscy gracze opuszczą grę, zostaje ona zakończona.