Diablo 1 Beta oryginalnie znana pod nazwą Diablo Battle.net Beta, była to limitowana wersja gry przeznaczona dla 1000 graczy (beta testerów), których zadaniem było wychwytywanie błędów oraz testowanie rozgrywki na serwerze Battle.net. W tej wersji dostępne były: wszystkie 3 klasy postaci oraz 5 poziomów podziemi z dwoma różnymi zestawami podłoża (4 poziomy Church i 1 poziom Catacombs). Beta posiadała również pełny dostęp do battle.net oraz kilku NPC znajdujących się w Tristram. Interfejs gry był taki sam jak w oryginalnej wersji Diablo Retail z wyjątkiem spellbook w którym znajdowało się 6 stron zamiast 4.
Wersja beta zawierała kilka czarów, które nie znalazły się w finalnej wersji gry. Również niektóre opisy questów były inne.
---
Poniżej znajduje się treść maila, który został wysłany przez Blizzard do wszystkich beta testerów:
Subject: Open Letter to Battle.net Beta Testers
From: Battle.net Beta Team (Blizzard)
Host: Blizzard Entertainment
Date: Fri. Nov 15 00:13

There has been some discussion on these forums regarding the Battle.net Beta program. We are very appreciative of all the people who have signed up for the Beta program (and those of you who got in know that we had an enormous response) and look forward to the next few weeks.

The purpose of our beta program is to get you, hard-core game players, to help find the one thing we all hate -- bugs. We are dedicated to making all of our products as fun and as bug free as possible, and this is where you come in. With your help and this beta program, we will all be working towards making Battle.net and Diablo a fantastic experience for gamers.

We have had many questions concerning what is in the Battle.net Beta version of Diablo, how is it different than the Pre-release Demo and what will be in the Full version of Diablo. There have been several different responses posted, and rumors seem to have run rampant. We would like to set the record straight so that all of our testers know what to expect and are on the inside track for both Battle.net and Diablo.

What is in the Battle.net Beta:

5 levels featuring two different tilesets, The ability to play all three character classes, Numerous new spells and items, Full access to Battle.net, 4-player Multiplayer capability, Unique monsters within the labyrinth, More NPCs within the town, Vastly improved User Interface.

What will be in the Final version of Diablo:

16 randomly generated levels featuring 5 different tilesets every time you play, Normal, Nightmare and Hell difficulty levels, Single and Multiplayer quests, Cinematic Cut scenes, and much much more...

I'm a Beta Tester - and... All of our Beta testers will be listed in the in-game credits. For an example of this, check out the credits section on your Battle.net CD. We strove to make this beta program as "painless" as possible by allowing you to play the game for free without having to pay for the CD or shipping. We understand that beta testing is not all fun, but we hope that all the above, plus allowing you to play Diablo weeks before anyone else in the world, will be a fair exchange for your efforts.

See you on Battle.net!

The Battle.net Beta Team at Blizzard
---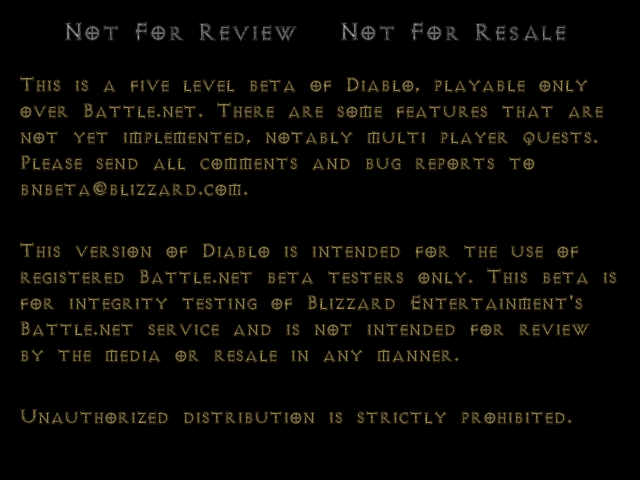 Na obrazku obok widzimy komunikat, który pojawia się po każdym uruchomieniu gry Diablo Battle.net Beta. Dowiadujemy się z niego, iż wersja beta zawiera pewne cechy które jeszcze nie zostały wprowadzone w poprzednich wersjach a zwłaszcza zadania w trybie multiplayer. Tymi zadaniami były dwa questy - "Butcher" oraz "Leoric". Być może Blizzard w finalnej wersji gry chciał dodać do trybu multiplayer więcej zadań tak jak w trybie Single Player, jednak zarówno w wersji Beta jak i Retail na pięciu pierwszych poziomach podziemi w trybie multiplayer występują te same zadania (Butcher i Leoric). Możliwe, że część questów nie znalazło się w trybie multiplayer lub zostały usunięte tak jak zadanie "Map of The Stars" gdyż sprawiały problemy związane z synchronizacją gry. Niestety są to tylko moje przypuszczenia.
---
Powyżej mamy dwa screeny, pierwszy (po lewej) przedstawia ekran tytułowy, który znacznie różni się w stosunku do wersji finalnej. Różnice widzimy nie tylko w obrazku tła, ale również w położeniu loga oraz treści napisu w stopce. Natomiast screen po prawej stronie pochodzi z intra do gry i jak sobie porównamy to widzimy że oba screeny przedstawiają ten sam obrazek.
---
Powyżej mamy trzy screeny. Pierwszy przedstawia menu gry, jak widzimy opcja Single Player jest zablokowana poza tym na ekranie widoczna jest wersja gry 96.11.9.2. Pierwsze trzy człony w numerze wersji prawdopodobnie oznaczają datę, co by się zresztą zgadzało ponieważ e-mail do beta testerów został wysłany kilka dni później czyli 15 listopada.
Kolejnym screenem jest ekran ukazujący się po kliknięciu na pozycję Multiplayer i wyborze opcji Battle.net. Na ekranie widzimy komunikat Enter your battle.net beta ID#, czyli prośba o wpisanie swojego numeru ID, w przeciwnym razie nie zostaniemy wpuszczeni na serwer. Ciekawostka jest to iz w becie nie ma opcji gry w sieci lokalnej, do wyboru mamy jedynie battle,net.
Trzecim screenem jest ekran pokazujący się podczas wczytywania poziomu. Jest on inny niż w wersji finalnej i przedstawia katedrę w Tristram.
---
Powyżej mamy dwa obrazki, pierwszy z lewej jest to screen z Bety, na którym widać, że SpellBook posiadała 6 stron, co jest dowodem na to, iż pierwotnie w Diablo miało być znacznie więcej czarów niż jest obecnie.
Natomiast obrazek po prawej stronie przedstawia wygląd płyty CD z beta. Jak widzimy płyta zatytułowana jest battle.net beta version, ponieważ beta testy miały służyć nie tylko do testowania Diablo ale również samego Battle.netu.
---
W instrukcji do Diablo znajduje się screen pokazujący menu charakterystyk, który pochodzi prawdopodobnie z Bety. Jest to screen przedstawiający "startowe" atrybuty postaci Warrior na 1 poziomie. Na pierwszy rzut oka wszystko wygląda OK. Jednak jeśli uważnie przyjrzymy się wpisanym atrybutom, to odkryjemy, że są pewne różnice w stosunku do finalnej wersji gry. A oto one (w nawiasach podane są dane z wersji finalnej)
Next Level: 1000 (2000)
Armor Class: 3 (5)
To Hit: 55% (60%)
Life: 50/50 (70/70)
Pozostałe atrybuty są takie same.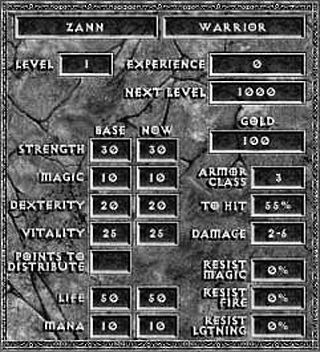 ---
Na razie to byłoby na tyle. Być może za jakiś czas coś jeszcze dopisze. Tymczasem zapraszam również do zapoznania się z działem Ciekawostki.