Krowi poziom czyli Cow Level jest jednym z najstarszych i największych żartów czy też mitów związanych z grą Diablo 1. Wszystko zaczęło się od 3 krów, które znajdują się w Tristram. Gracze odkryli, że po kilku kliknięciach na krowie nasz bohater rzucał zabawne teksty, wtedy to pojawiły się plotki o tym, jak to otwiera się portal, prowadzący do sekretnego Krowiego Poziomu. Twierdzono, że warunkiem otwarcia portalu do Cow Levelu, miała być odpowiednia liczba kliknięć na krowach. Od czasu puszczenia tej plotki, ludzie zaczęli wymyślać i opisywać na forach internetowych coraz więcej absurdalnych sposobów na dostanie się do Cow Levelu. Pojawiały się również historie graczy, którzy twierdzili, iż udało im się dostać do Krowiego Poziomu. Według nich w tym sekretnym miejscu można było spotkać niesamowite potwory oraz przedmioty. Niektórzy twierdzili, że spotkali tam potwory takie same jak w Diablo, tylko że z krowimi atrybutami np. potwory w krowie łaty, z dzwoneczkami, Sukuby jeżdżące na krowach itd. Wedle opowieści najsilniejszym potworem w Krowim Poziomie jest boss o nazwie Cow King , który miał być silniejszy nawet od samego Diablo.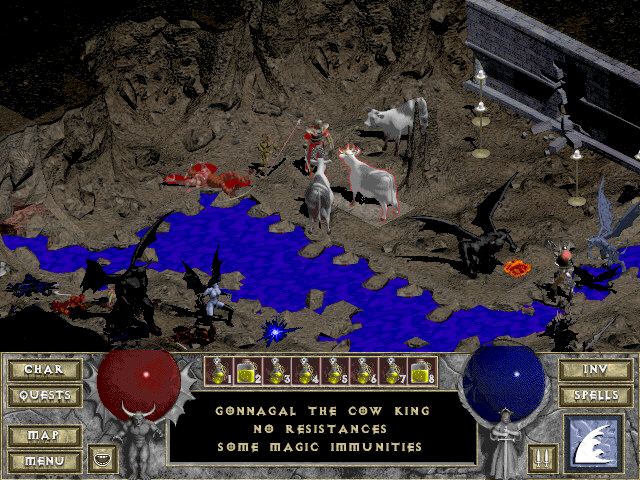 Aby mit sekretnego poziomu uczynić bardziej wiarygodnym, w sieci zaczęły pojawiać się sfabrykowane screeny ukazujące Cow Level jako dowód na jego istnienie. Jeden z takich screenów widzimy właśnie po lewej stronie. Jest to screen z maja 1997r, który ukazuje nam poziom przypominający lokacje z zadania "Poisoned Water Supply". Na screenie widzimy również bossa Gonnagal The Cow King.
Plotki były na tyle wiarygodne, że do Blizzarda wysyłano tysiące maili z pytaniami o tajemne pomieszczenie i pomoc w dostaniu się do niego.W końcu ekipa Blizzarda postanowiła odpowiedzieć na durnowate listy podając kod do gry Starcraft: "There is no cow level" (Nie ma żadnego krowiego poziomu). Po jego wpisaniu gracz automatycznie przechodził misję.
Plotki związane z Sekretnym Krowim Poziomem pojawiły się również po wydaniu dodatku do Diablo 1 zatytułowanego Hellfire, który stworzony został przez Synergistic Software. Wtedy to informowano że specjalny plik o nazwie command.txt zawierający komendę o treści ;CowQuest; dodaje do gry tzw. Cow Quest, oraz NPC przebranego za krowę. Jednak Krowi Quest z Hellfire nie dodawał żadnego nowego poziomu, tylko zastępował zadanie związane z lokacją "Nest" - był to prawdopodobnie żart twórców Hellfire.
Gdy Diablo 2 było jeszcze w fazie produkcji 1 kwietnia 1999r Blizzard zaprezentował screen tygodnia, który przedstawiał Amazonkę walczącą z krowami. Ludzie zaczęli się wtedy zastanawiać czy screen był tylko żartem z okazji Prima Aprilis, czy tez faktycznie Cow Lewel pojawi się w Diablo 2.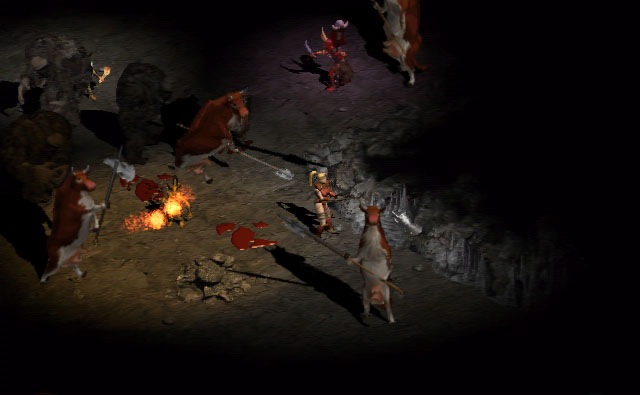 Teraz wiemy że sekretny poziom został jednak dodany do Diablo 2 i wypełniony jest krowami chodzącymi na dwóch nogach. Głosy krów wypowiadające słowo "moo" podłożone zostały przez pracowników Blizzarda. Krowi Król pojawił się jako Boss, jednak nie był tak silny jak Diablo.
Poniżej kilka spreparowanych przeze mnie screenów z Cow Level w Diablo 1. Kliknij na obrazek w celu powiększenia:
---
Rzekome metody dostania się na Cow Level
Poniżej opis kilku sposobów, na dostanie się do sekretnego poziomu, które niegdyś krążyły w internecie i kusiły graczy. Metod na dostanie się do Krowiego Poziomu jest znacznie więcej i każda jedna bardzie lub mniej absurdalna. Ja przedstawię wam tylko kilka z nich.
Metoda Pierwsza
Pierwsza metoda polega na kliknięciu na każdej z krów w mieście po 100 razy. Jeśli klikniesz na nich mniej lub więcej razy - wtedy podliczanie zostanie anulowane i sztuczka się nie uda. Dlatego musisz dopilnować, by kliknąć dokładnie 100 razy, wtedy otworzy się portal za kościołem, dzięki któremu będziesz mógł wejść do sekretnego poziomu. Gdy znajdziesz się już w sekretnym levelu będziesz musiał stawić czoła zmutowanym zwierzętom gospodarskim - kurczakom, ujeżdżanym krowom - szkieletom, ,dwugłowym kogutom, dziwnym świniom i kilku nagim rolnikom umieszczonym tam dla dodania powagi poziomowi.
Metoda Druga
Kolejna metoda polega na wykupieniu wszystkich przedmiotów od Griswolda. Kiedy złożysz mu wizytę następnym razem - będzie miał do sprzedania zwój, który rzucony w podziemiach otworzy portal do Krowiego Poziomu. Należy również pamiętać, że jeśli już raz rzuciłeś portal do krowiego poziomu i później rzucisz rzucasz czar miejskiego portalu, by wrócić do miasta -portal do portal Cow Level automatycznie znika i już nigdy się nie pojawi. Dlatego zanim coś zrobisz - zastanów się kilka razy. Najlepiej zbierz jak najwięcej potrzebnych zwojów i mikstur na zapas.
Metoda Trzecia
Metoda trzecia ukryta jest w zadaniu "The Butcher". Jeśli pozwolisz zabić się Rzeźnikowi w jego komacie - w chwili zabijania i restartowania twojej postaci do miasta Butcher wyrzuci pewien zwój. Musisz wrócić i KONIECZNIE go zabić w jego własnej komnacie. Jeśli zostanie zabity poza komnata Rzeźnika - magiczny zwój zniknie. Teraz musisz zabrać zwój i przygotuj się na zejście. Kiedy tylko będziesz przygotowany - rzuć scroll w dowolne miejsce na podłodze... Miłej walki... ;)
Metoda Czwarta
Czwarty sposób na dostanie się do sekretnego poziomu będzie wymagał użycia kapliczek Goat shrine lub Cauldron. Gdy będziesz na poziomie Hell użyj wszystkich kapliczki na poziomach 13 i 14. Ostatnia kapliczka otwiera portal przed pentagramem znajdującym się na 15 poziomie, który przeniesie Ci do tajnego poziomu. Jednak zanim tam zejdziesz, musisz rzucić czar Town Portal. Musisz to zrobić - w przeciwnym razie nie wejdziesz.
---
The Ultimate Cow Level Extractor
W połowie 1997 roku pojawił się program o nazwie The Ultimate Cow Level Extractor, który rzekomo miał tworzyć biały portal w pobliży krów znajdujących się w Tristram.
Portal ten przeniesie Cię do krowiego poziomu, gdzie czeka cię walka ze złymi krowimi lordami i spróbujesz zyskać "Sacred Cow Power" (Świętą Krowią Moc). Wybij wszystkie potwory i pokonaj bossa Chaos Cow by otrzymać nagrodę... Diablo Plate. Statystyki tej zbroi są naprawdę niesamowite +666 AC, +100 all attributes, resis all +75%, 800 durability. Tak więc nie wahaj się - użyj The Ultimate Cow Level Extractor a nigdy tego nie zapomnisz.
---
Jeśli kiedykolwiek będziecie pytać na jakimś forum o sposoby an dostanie się do Cow Level, spodziewajcie się że możecie otrzymać odpowiedź jak tutaj. Zapraszam również do zapoznania się z działem Ciekawostki.