Diablo Alpha jest nieoficjalną nazwą, którą gracze określili bardzo wczesne wersje Diablo 1. "Alpha" powstawała w latach 1995-1996 i była starsza niż legendarne Diablo Pre-Release Demo. Projekt początkowo miał być grą Claymation (z plastelinową animacją) i tworzony był przez firmę Condor Software, której założycielami byli Erich Schaefer, Max Schaefer oraz David Brevik, który już w szkole średnije obmyślał pomysł na stworzenie gry. Diablo było wtedy grą pisaną pod DOS'a posiadającą system walki turowej przeznaczony dla jednego gracza. W pewnym momencie Studio Condor nawiązało współpracę z Blizzard Entertainment a następnie zostało przez niego przejęte i zmieniło nazwę na Blizzard North. Projekt przeszedł również szereg zmian. Zrezygnowano z rozgrywki turowej zmieniając ją na grę w czasie rzeczywistym. Zrezygnowano również z środowiska DOS na rzecz nowego w owym czasie systemu Windows 95, dodano tryb multiplayer oraz wielokrotnie zmieniano interfejs gry, który wzorowany był na grze X-Com.
W dalszej części artykułu znajdują się opisy oraz kilkanaście screenów prezentujących wczesne wersje Diablo nazwane przez graczy Alpha. Poniższe opisy w dużej mierze bazują na informacjach zamieszczonych w serwisie www.diablo-evolution.net i nie należy ich traktować jako potwierdzone info.
---
---
Diablo Alpha 1 - wersja ta posiadała kompletnie inny interfejs gry niż pozostałe znane nam wersje Diablo. W wersji tej poziomy były generowane nieco inne struktury niż w finalnej wersji oraz nie było ograniczonego promienia światła. Wszystkie klasy postaci posiadały ten sam wygląd oraz miały inne nazwy - Fighter oraz Archer. Na niektórych obrazkach postać nie znajduje się na środku ekranu co prawdopodobnie miało związek z turowym trybem gry i przemieszczaniem się po "kwadratach"
Na środkowym screenie widzimy potwora Fat Demon, który w wersji Retail nazywa się Overlord. Również znajdyje się tu zdobienie na ścianie, którego nie ma w finalnej wersji gry.
Powyżej na pierwszym screenie z lewej widzimy postać Fighter w poziomach Caves oraz potworyi, Burning Dead Captain, Overlord oraz Illusion Weaver. W wersji finalnej Overlord i Burning Dead Captain nie występują na poziomach Caves. Ciekawostką jest jeszcze, że w panelu wyświetlana jest Klasa postaci oraz prawdopodobnie jej statystyki. Środkowy screen pokazuje nam stary wygląd lawy w Caves, który pojawią się również na jednym z oficjalnych screenów z Diablo 1, które możemy obejrzeć na oficjalnej stronie Diablo. Na kolejnym obrazku widzimy poziom Catacombs i niebieskiego szkieleta Ice Stalker, który nie występuje w finalnej wersji gry.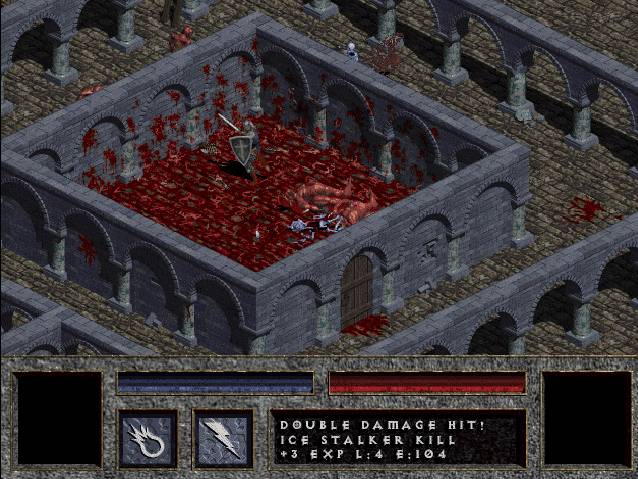 Obrazek po lewej przedstawia wczesny wygląd "komnaty" Butchera a wewnątrz niej oprócz postaci bohatera znajdują się dwa ciała Overlorda (albo Butchera?, ciężko powiedzieć) oraz niebieskie resztki potwora o nazwie Ice Stalker, którego już widzieliśmy na wcześniejszych screenach. Tymczasem w panelu wyświetlona jest przeprowadzona akcja "Double Damage Hit!" czyli zadano podwójne obrażenia. Dodam jeszcze że ten starszy wygląd pomieszczenia w którym znajduje się Butcher jest zamieszczona na płycie z Diablo Retail ale nie została wykorzystana w grze.
---
---
Diablo Alpha 2 była wersją, która już nie korzystała z systemu rozgrywki bazującej na turach. Posiadała również zupełnie inny interfejs użytkownika, który był zbliżony do interfejsu z finalnej wersji gry. Funkcjonalność interfejsu była taka sama jak w wersji Pre-Release Demo - dodano sfery many i życia, (które wyglądały inaczej niż w Pr-Demo i wersji finalnej), dostępne było speedbook, oprócz tego dostępne były pozostałe przyciski takie jak Mapa, menu, inventory itd. Brakowało jedynie przycisku spellbook oraz pasa do umieszczania napojów i zwojów. Funkcję pasa spełniał przycisk, który działał na zasadzie speedbook, tylko że zamiast czarów wybierało się z niego napój lub zwój.
Powyżej pierwszy obrazek z lewej ukazuje postać znajdującą się w Grobowcu Leorica. Zwróćmy uwagę na lewy górny róg obrazka, gdzie możemy zauważyć żółtą wersję gatunku Fallen One z włócznią. Taki typ Fallenów nie istnieje w finalnej wersji. Ciekawostką jest to, iż obrazek ten znajduje się na oficjalnej stronie Blizzarda jako oficjalny screen z gry Diablo. Blizzard tylko troche go przerobił dodając Rogue i Sorcerera. Na kolejnych dwóch screenach widzimy Leorica i Butchera w swoich komnatach. Buther's Chamber wygląda nieco inaczej jakby było mniej "ciał ponabijanych na pale" ponadto w komnacie znajduje się grupa szkieletów. Na screenach widać włączoną obsługę promienia światła, która na na pozostałych screenach jest niedostępna.
Na powyższych screenach można zauważyć, że ikona aktualnie aktywnego czaru ma kolor złoty, tak jakby to był skill. Na screenie po prawej, po raz kolejny możemy zobaczyć inny system generowania podziemi - w wersji finalnej taki układ nigdy się nie wygeneruje. Obrazek, który przedstawiony jest poniżej ukazuje postać stojącą przy drzwiach tawerny, natomiast Ogden znajduje się w miejscu, w którym powinien stać Griswlold. Można przypuszczać, że w tej wersji Ogden spełniał funkcję Griswolda lub Griswold znajdował się w innym miejscu niewidocznym na screenie.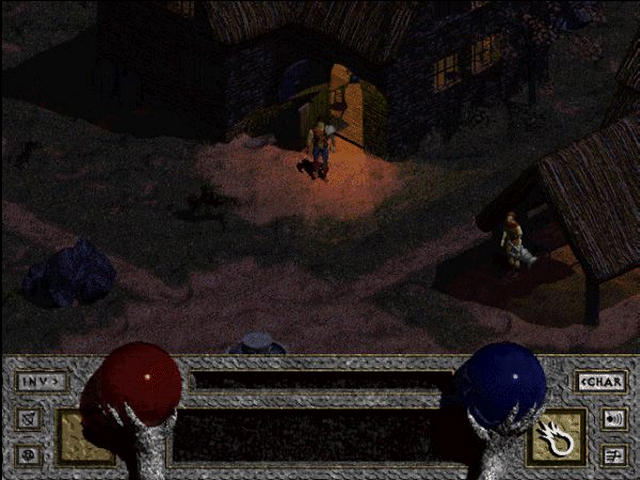 ---
---
Diablo Alpha 3 była to wersja posiadająca ten sam interfejs co Alpha 2, leczy pod względem technicznym gra była znacznie udoskonalona. Na poniższych screenach możemy zauważyć że ikona czaru ma tutaj kolor czerwony tak jak ikona czarów ze zwoju. Przypomnę tylko że ikony czarów w Alpha 1 miały kolor niebieski,natomiast w Alpha 2 złoty
Powyżej pierwszy obrazek z lewej przedstawia ciekawy układ podziemi. Na środkowym screenie widzimy menu Charakterystyk oraz inventory w którym brakuje miejsca na amulet. zauważmy, że jest to postać Archer. Natomiast sylwetka w inventory pochodzi od Warriora (Fightera) dlatego prawdopodobnie wszystkie klasy postaci w tej wersji również korzystały z jednego zestawu wyglądu. Na kolejnym screenie widzimy dwa niebieskie sarkofagi, które normalnie pojawiają się tylko w Komnacie Leorica w trybie Single Player.
Powyżej mamy kolejne obrazki z Alpha 3. Na screenie po lewej widzimy Wounted Townsman znanego z zadania "The Butcher". Na środkowym obrazku widać ozdobny element ulokowany na ścianie. Ten element widać również na screenach z Alpha 1. Na następnym obrazku widzimy, że opcja zoom była już wprowadzona. W menu inventory widzimy również, że laski zajmowały mniej miejsca 1x3, natomiast w wersji finalnej zajmują 2x3.
---
Zapraszam również do zapoznania się z działami takimi jak Diablo Battle.net Beta oraz Ciekawostki