Poprzez swoją podróż w głąb Labiryntu możesz spotkać, różnego rodzaju obiekty, które w większym lub mniejszym stopniu mogą mieć związek z rozgrywką. Poniżej postaram się opisać większość z nich.
Schody
Schody służą do przemieszczania się pomiędzy poziomami. Dzielą się na zejścia i wyjścia, które różnią się między sobą wyglądem. Wygląd schodów zależy również od tego, w jakiej lokacji się znajdują. Na poniższym obrazku przedstawione zostały schody na poziomach Dungeon (po lewej) oraz Hell (po prawej).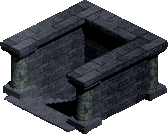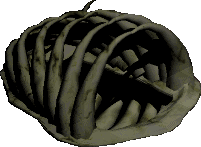 Sarkofagi
Sarkofagi znajdują się na pierwszych czterech poziomach podziemi. Możemy je otworzyć poprzez kliknięcie na sarkofagu. Taki grobowiec może skrywać złoto, przedmioty albo po prostu może być pusty. Również po otwarcia sarkofagu może wyjść z niego szkielet, z którym będziemy musieli walczyć. W Grobowcu Króla Leorica znajdują się sarkofagi, których nie da się otworzyć.

Beczki
W podziemiach kościoła znajduje się wiele beczek, które możemy rozbić, Mogą one skrywać złoto lub inne przedmioty. Niektóre beczki wybuchają po ich rozbiciu przez co nasza postać może otrzymać obrażenia. Oprócz eksplozji, może nam grozić to, iż w beczce będzie znajdował się szkielet, które po uwolnieniu powstanie i zwróci się przeciwko nam.

Biblioteczka
W Bibliotekach znajdują się księgi wiedzy magicznej. Księgi znajdujące się w bibliotekach zawierają zaklęcie, które będziemy mogli się nauczyć lub zwiększyć naszą wiedzę na temat tego zaklęcia.


Tomy Szkieletów
W otoczeniu Biblioteki znajdują się Tomy Szkieletów, na których może znajdować się zwój lub magiczna księga.

Księgi na piedestałach
W Labiryncie możemy spotkać wielkie Tomy spoczywających na kamiennych piedestałach. Księgi te zawierają informacje związane z podziemiami oraz historią Sanktuarium - świata w którym toczy się akcja gry Diablo.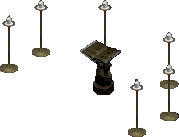 Skrzynie
Skrzynie podobnie jak sarkofagi rozsiane są w podziemiach Kościoła. Dzielą się na Małe Skrzynie, Skrzynie (zwykłe), oraz Duże Skrzynie. Każdy taki kufer może zawierać jakiś przedmiot ale niekoniecznie. Małe skrzynie mogą zawierać tylko jeden przedmiot, zwykłe skrzynie mogą pomieścić dwa przedmioty, a duże skrzynie mogą kryć w sobie trzy przedmioty.



Ukrzyżowane Szkielety
Znajdują się w Grobowcu Leorica, jesli je strącimy, to otworzy nam się ukryta komnata, w której znajdują się magiczne przedmioty.



Kapliczki
Kapliczki posiadaja magiczne efekty, czasem negatywne, więc należy używac z rozwagą.


Płonący Krzyż
Płonące krzyże znajdują się w małych pomieszczeniach. Jeśli natrafisz na takie pomieszczenie, to bądź ostrożny, gdyż po zetknięciu się z płonącym krzyżem nasza postać zostaje poparzona i traci pewną część punktów życia.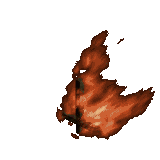 Dźwignie
Dźwignie służą do otwierania pomieszczeń.


Piedestał
Znajduje się na 5 poziomie i związany jest z zadaniem "Valor". Musimy na nim położyć trzy Krwawe Kamienie.

Powieszone i ponabijane ciała
Są to zmasakrowane ciała ludzi. W dużej ilości znajdują się na 2 poziomie w komnacie Rzeźnika. Poza tym można je spotkać na poziomach Hell.













Ciała w komnacie Rzeźnika.
Stojak
Na stojakach spoczywa uzbrojenie - znajdują się na poziomach Hell.



Spaczony Ołtarz (Unholy Altar)
Znajduje się w Komnacie Lazarusa. Spoczywa na nim ciało złożonego w ofierze dziecka.

Ścięte Ciała (Decapitated Bodies) oraz Zabity Bohater (Slain Hero)
Ścięte Ciała - są to zwłoki bohaterów, którzy zapuścili się w głąb labiryntu z myślą odnalezienia skarbów.
Slain Hero - Jest to ścięte ciało bohatera, który zginął podczas walki ze złem.

Sztandary
Znajdują się na pierwszych poziomach w Dungeon

Magiczne kręgi
Magiczne kręgi możemy znajdują się w Siedzibie Lazarusa i tylko w trybie single player. Znajdują się przy Księgach Podłości a jeden z nich teleportuje nas do Lazarusa.


Nagie Ciała
W Diablo możemy również spotkać ciała nagich kobiet przykutych do ściany ;)

Pochodnie
Oświetlają nam drogę w podziemiach.


Grządka Grzybów
W trybie single player na 9 poziomie może znajdować się grządka z grzybami, ma ona związek z zadaniem Black Mushroom zlecanym przez Adrie.

Drzwi
Są wieściami do pomieszczeń w labiryncie. Podczas gdy uciekamy przed jakimś potworem, możemy je za sobą zamknąć, dzięki czemu zamkniemy mu dalszą drogę. Niestety część potworów potrafi otwierać drzwi oraz je blokować przez co nie będzie możliwości ich zamknięcia.

Kraty
Przez kraty możemy zobaczyć potwory w sąsiednim pomieszczeniu, istnieje również możliwość strzelania z łuku lub używanie czarów na potworach, gdy nasza postać stoi za kratami.

Pułapki
W podziemiach znajduje się pełno zastawionych pułapek. Mogą one być zastawione na skrzyniach, sarkofagach czy też na drzwiach. Pułapki przyjmują postać czarów lub lecącej strzały. Pociski pułapek umiejscowione są w scianach.

Portal
Portal tworzony jest przy pomocy zaklęcia i za jego pomocą możemy w szybo przenieść się z podziemi do miasta i z powrotem. Stawiane przez nas portale maja kolor niebieski. W grze dostępny jest również czerwony portal, który przenosi postać do siedziby Arcybiskupa Lazarusa.


Wielki Pentagram
Na 15 poziomie podziemi znajduje się ogromny pentagram. Umiejscowiony jest on na ziemi i stanowi wejście na 16 poziom na którym znajduje się Diablo (The Dark Lord).