Diablo III: Morbed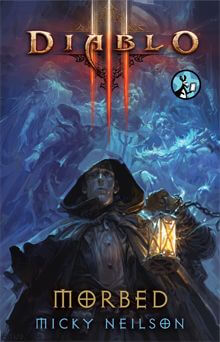 Tytuł: Diablo III: Morbed
Autorzy: Micky Neilson
Data wydania: 21 kwietnia 2014
Liczba stron: 64 (Kindle Edition)
Opis: Oryginalna e-nowela bazująca na najlepiej sprzedającej się grze wideo!
Morbed jest złodziejem, którego umiejętności zostaną poddane ostatecznej próbie. Wraz z czarodziejem, druidem, nekromantą i krzyżowcem, Morbed przybył na odległą wyspę, by wytropić nieuchwytnego wagabundę i odzyskać cenne przedmioty wykradzione z miasta Westmarch.
Ale na wyspie jest coś jeszcze… Coś co zabijało i będzie zabijać ponownie. By opuścić wyspę żywym, Morbed będzie zmuszony stawić czoła nie tylko przerażającej istocie, która czai się w lasach, ale również najmroczniejszym zakątkom swego ducha.
Diablo III: Storm of Light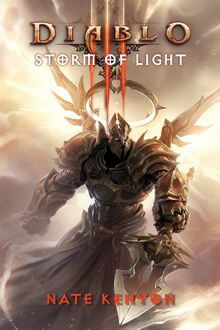 Tytuł: Diablo III: Storm of Light
Polski tytuł Diablo III: Nawałnica Światła
Autorzy: Nate Kenyon
Data wydania: 04 lutego 2014
Liczba stron: 400 (eng), 368 (pol)
Opis: Po klęsce Najwyższego Zła odradza się Królestwo Niebios. Rada Angiris odzyskała Czarny Kamień Dusz i strzeże przeklętego artefaktu gdzieś w głębi roziskrzonego Srebrnego Miasta.
Na tle tych doniosłych wydarzeń Tyrael z trudem odnajduje się w nowej roli -Archanioła Mądrości. Czuje się obco pośród anielskiej braci i wątpi, czy uda mu się stanąć na wysokości zadania. Poszukując otuchy w sobie samym i w Niebiosach, wyczuwa złowieszcze oddziaływanie Czarnego Kamienia Dusz na swoją ojczyznę. Tam, gdzie niegdyś panowała harmonia światła i dźwięku, teraz wkrada się przybierający na sile dysonans, który zwiastuje nadciągające nad krainę niebezpieczeństwo. Imperius wraz z pozostałymi archaniołami ostro sprzeciwia się pomysłom przeniesienia lub zniszczenia Kamienia, co zmusza Tyraela do złożenia losu Niebios w ręce ludzkości.
Tyrael gromadzi wokół siebie obdarzonych wielką mocą bohaterów z najdalszych krańców Sanktuarium, by wskrzesić starożytny Zakon Horadrimów. Powierza im praktycznie niewykonalne zadanie: mają wykraść Kamień Dusz z samego serca Niebios. Pośród wybrańców, na barkach których ma spocząć to brzemię, znajduje się Jacob ze Staalgardu, były awatar Sprawiedliwości i strażnik anielskiego ostrza El'druina, Shanar, czarownica dysponująca fenomenalną mocą, Mikułow, zwinny i nabożny mnich, Gynvir, nieustraszona i zaprawiona w boju barbarzynka, oraz Zayl, tajemniczy nekromanta. Czy mając za wrogów zarówno czas, jak i siły dobra i zła, śmiałkowie zdołają się zjednoczyć i wypełnić niebezpieczną misję, nim Niebiosa legną w gruzach?
Opowiedziana w powieści historia stanowi pomost między wydarzeniami z Diablo III a fabułą Reaper of Souls – pierwszego dodatku do gry.
Diablo III: Book of Tyrael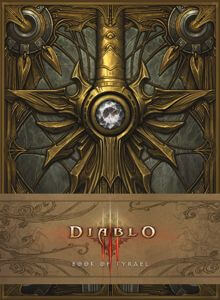 Tytuł: Diablo III: Book of Tyrael
Polski tytuł (nieoficjalny): Diablo III: Księga Tyraela
Autorzy: Matt Burns
Data wydania: 22 października 2013
Liczba stron: 164
Opis: Diablo 3: Księga Tyraela zabiera fanów i jeszcze dalsza podróż przez uniwersum (Diablo) z szczegółowo i przepięknie stworzonym tomie, który skupia się na osławionym czempionie Tyraelu. Jako były archanioł Wysokich Niebios, zaliczany jest pomiędzy najważniejszych I najbardziej wpływowych postaci w świecie Diablo. Tutaj w tym ilustrowanym i wyczerpującym tomie, wyjawia on nigdy wcześniej nie znane sekrety historii świata, mroczne zagrożenia którym ludzkość dopiero będzie musiała stawić czoła oraz o jego decyzji o dołączeniu do grona ludzkości jako śmiertelnik. Zawierając fantastyczne oryginalne dzieła sztuki, ten piękny ilustrowany następca Diablo 3: Księga Caina na dodatek zawiera listy od Leah i dodatkowe fragmenty pism Caina. Wszystkie zaprezentowane przez Tyraela podczas składania złożonej i fascynującej opowieści dla członków bractwa Horadrimów.
Ponadto zawiera w pełni wyjmowane ilustracje rodziny Leorika i innych wpływowych postaci ze Starego Tristram, w tym Deckarda Caina, Księcia Albrechta, Arcybiskupa Lazarusa, Krola Leorika, Księcia Aidana, Krolowej Asylli, Leah i Adrii.
Diablo III: Heroes Rise, Darkness Falls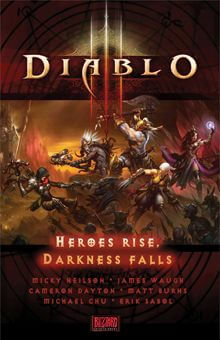 Tytuł: Diablo III: Heroes Rise, Darkness Falls
Polski tytuł Diablo III: Gdy zapada ciemność, rodzą się bohaterowie
Autorzy: Micky Neilson, Cameron Dayton, Matt Burns, Michael Chu, Jason Bischof, James Waugh, Erik Sabol
Data wydania: 27 listopada 2012
Liczba stron: 288 (eng. ebook), 201 (eng. Kindle Edition), 416 (pol)
Opis: "Diablo" to horror psychologiczny, to strach przed potworem spod łóżka.
Groza - prawdziwa groza - jest w każdym z nas.
Upewnij się, że włączyłeś w domu wszystkie światła.
Groza karmi się wątpliwościami, pożądaniem, żalem, zazdrością, nienawiścią oraz milionem innych diabelskich smakołyków.
W uniwersum "Diablo" zło reprezentowane jest przez demony, jednak one jedynie pielęgnują nasiona, jakie wysiewamy sami. Największym zatem wyzwaniem jest zwycięstwo w walce przeciwko samemu sobie. To jest oznaką prawdziwej odwagi w tym świecie.
Między tymi stronami znajdziesz historie, które sprawią, że zajrzysz w głąb siebie, aby odnaleźć wolę walki w obliczu absolutnej grozy.
Zapada ciemność, rodzą się bohaterowie.
Diablo III: The Order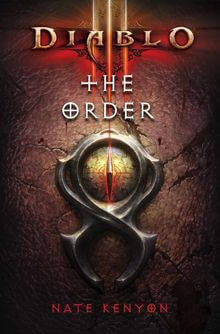 Tytuł: Diablo III: The Order
Polski tytuł Diablo III: Zakon
Autor: Nate Kenyon
Data wydania: 15 maja 2012
Liczba stron: 384 (eng), 496 (pol)
Opis: Tristram padło pod naporem demonów z Płonących Piekieł, zwaliły się zbocza Góry Arreat i Kamień Świata został zniszczony. Lecz Sanktuarium ocalało.
A wielkie czyny bohaterów przeszły do legendy. I popadły w zapomnienie.
Nawet ostatni z tych, którzy pamiętają tamte czasy, odrzucił swoje dziedzictwo. Deckard Cain, potomek przywódcy Horadrimów, będzie musiał przebyć długą drogę, nim przekona się, że przepowiednie zagłady właśnie zaczęły się spełniać. Albowiem zło nie umiera nigdy.
Oto nad Sanktuarium znowu nadciąga mrok. I rodzą się nowi bohaterowie...
Diablo III: Book of Cain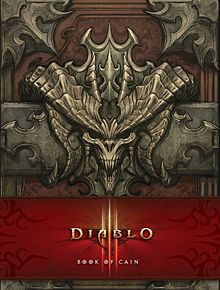 Tytuł: Diablo III: Book of Cain
Polski tytuł (nieoficjalny): Diablo III: Księga Caina
Autor: Richard A. Knaak, Deckard Cain
Data wydania: 12 grudnia 2011
Liczba stron: 148
Opis: Od zarania dziejów, Odwieczny Konflikt szalał pomiędzy Wysokimi Niebiosami a Płonącym Piekłem. Jeśli Przepowiednia Końca Czasu jest prawdziwa, to ludzkość wkrótce zostanie uwięziona w środku tej niekończącej się wojny.
Tak oto słynny uczony Deckard Cain połączył zapiski, ilustracje i wiedzę z pierwszej ręki, by zapisać historię świata Sanktuarium. Jego dzieło przedstawia zdradzieckie Pierwotne Wcielenie Zła (Diablo, Mephista i Baala) oraz Tyraela i innych archaniołów z Rady Angiri i daje nadzieję ludzkości w obliczy przytłaczającego terroru. Ujawniono również niezliczone tajemnice od pochodzenia śmiertelników i sekretów nefalemów do zbierającego się mroku Końca Czasu. Tak więc strzeż się, drogi czytelniku i daj świadectwo prawdzie, która leży tu zapisana.
Diablo Archive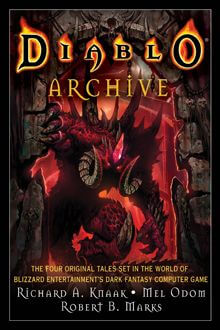 Tytuł: Diablo Archive
Polski tytuł: Diablo Archiwum, Księga I
Autorzy: Richard A Knaak, Robert B Marks oraz Mel Odom
Data wydania: 8 lipca 2008
Liczba stron: 738 (eng), 666 (pol)
Opis: Diablo Archive jest to kolekcjonerskie wydanie, zawierające cztery powieści osadzone w uniwersum Diablo. Diablo Archive zawiera:
Diablo: Legacy of Blood
Diablo: The Black Road
Diablo: The Kingdom of Shadow
Diablo: Demonsbane
Od zarania dziejów zastępy aniołów z Królestwa Niebios i diabelskie hordy z Płonących Piekieł toczą wojnę o los wszelkiego stworzenia. Walka ta dotarła do świata ludzi. Żaden śmiertelnik, anioł ani demon nie może zostać na uboczu...
The Sin War, Book Three: The Veiled Prophet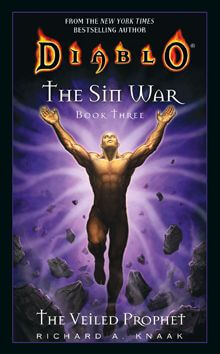 Tytuł oryginału: The Sin War, Book Three: The Veiled Prophet
Polski tytuł: Wojna Grzechu, Księga Trzecia: Fałszywy prorok
Autor: Richard A. Knaak
Data wydania: 25 września 2007
Liczba stron: 534 (eng), 368 (pol)
Opis: Stworzony przez demony kult Trójcy upadł. Teraz Uldyzjanowi pozostaje jedynie uwolnić ludzkość od zgubnych wpływów Katedry Światłości i stojącego na jej czele charyzmatycznego Proroka. Jednak Prorok to w rzeczywistości Inarius, anioł renegat, który uważa, że stworzony przez niego świat należy doń niepodzielnie, i nie zamierza przy tym pozwolić, by Sanktuarium wymknęło mu się z rąk – nawet jeśli będzie musiał je zniszczyć. W obliczu zbliżającej się konfrontacji z tak potężnym przeciwnikiem Uldyzjan nie dostrzega, że Inarius nie jest jedynym, który chce zawładnąć światem ludzi. I Królestwo Niebios, i Płonące Piekła są świadome istnienia Sanktuarium… a zastępy aniołów oraz armie demonów nie ustaną w walce, dopóki nie zdobędą świata ludzi.
Diablo: The Sin War, Book Two: Scales of the Serpent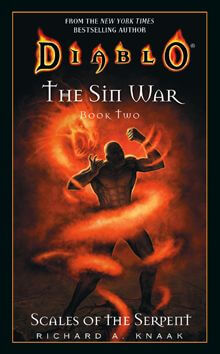 Tytuł oryginału: The Sin War, Book Two: Scales of the Serpent
Polski tytuł: Wojna Grzechu, Księga Druga: Smocze łuski
Autor: Richard A. Knaak
Data wydania: 27 marca 2007
Liczba stron: 327 (eng), 368 (pol)
Opis: Zdeterminowany, by zniszczyć kult Trójcy, Uldyzjan nie podejrzewa nawet, iż Inarius, tajemniczy Prorok Katedry Światłości, dyskretnie wspiera go w tym dziele. Inarius obsesyjnie pragnie przywrócić Sanktuarium utraconą świetność, wykorzystuje więc Uldyzjana w rozgrywce przeciwko swemu odwiecznemu wrogowi. Jednak do owej niebezpiecznej gry przystępuje ktoś jeszcze. Córka Pana Nienawiści, Lilith, niegdyś kochanka Inariusa, chce sama wykorzystać Uldyzjana i za jego nieświadomą pomocą zmienić wszystkich w armię nefalemów – istot podobnych bogom, daleko potężniejszych niż jakikolwiek demon czy anioł. Armię, która położy kres Stworzeniu i wyniesie Lilith ponad wszystkie istoty.
The Sin War, Book One: Birthright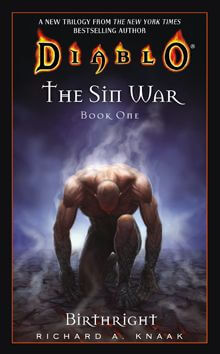 Tytuł oryginału: The Sin War, Book One: Birthright
Polski tytuł: Wojna Grzesznych, Księga Pierwsza: Prawo krwi
Autor: Richard A. Knaak
Data wydania: 01 października 2006
Liczba stron: 326 (eng), 360 (pol)
Opis: Trzy tysiące lat przed tym, jak mrok pochłonął Tristram, w niewielkiej wiosce nazwanej Seram mieszkał prosty farmer – Uldyzjan, syn Diomedesa. Nieoczekiwanie w życie Uldyzjana wkraczają siły, które raz na zawsze kładą kres jego spokojnej egzystencji. Zdumiony Uldyzjan staje się nagle centrum mrocznych wydarzeń. Niesłusznie obwiniany o brutalne morderstwo dwóch kapłanów zmuszony jest uciekać z rodzinnej wioski. Ku własnemu przerażeniu uświadamia sobie, że obudziła się w nim moc, o jakiej żadnemu człowiekowi się dotąd nie śniło. Musi zapanować nad przepełniającą go potęgą, zanim pochłonie ona całkowicie człowieczeństwo Uldyzjana.
Moon of the Spider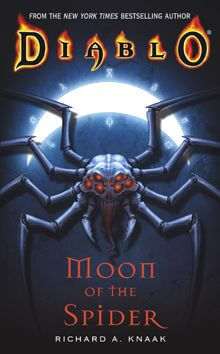 Tytuł oryginału: Moon of the Spider
Polski tytuł: Pajęczy Księżyc
Autor: Richard A. Knaak
Data wydania: 1 stycznia 2006
Liczba stron: 336 (eng), 320 (pol)
Opis: Lord Aldric Jitan cierpi na nocne koszmary. Doprowadzają go one do tajemniczego grobowca. W miejscu tym arystokrata ma nadzieję obudzić pradawne zło, uśpione od czasu upadku Tristram.
Tajemniczy nekromanta, Zayl, zaniepokojony rosnącą w siłę mocą Ciemności, trafia na ślad złowieszczego planu Jitana. Zayl nie wie jednak, iż czekają go zmagania z innym nekromantą, będącym właściwym autorem diabelskiego planu.
Pajęczy Księżyc wschodzi, złowrogi demon, Astrogha, szykuje swe sługi do ataku na Sanktuarium.
The Kingdom of Shadow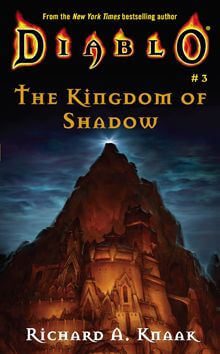 Tytuł oryginału: The Kingdom of Shadow
Polski tytuł: Królestwo Cienia
Autor: Richard A. Knaak
Data wydania: 01 września 2002
Liczba stron: 339 (eng), 320 (pol)
Opis: Legenda mówi o dawno wymarłym mieście Ureh, według niektórych bramie prowadzącej do Wysokich Niebios. Uważa się, że co dwa tysiące lat, gdy układ gwiazd jest odpowiedni, a cień góry Nymyr pada na ruiny, Ureh się odradza - ukazując wszystkie swe bogactwa śmiałkom, którzy odważą się ich szukać.
Po trwających całe życie badaniach i skomplikowanych obliczeniach, czarodziej Vizjerei, Quov Tsin będzie świadkiem odrodzenia Ureh. Jednak to, co czeka na Tsina i jego najemników, nie przypomina w niczym tego, czego się spodziewali. Okaże się bowiem, że marzenie o świetlistym Ureh jest wypaczonym koszmarem, który nieubłaganie wciągnie ich do Królestwa Cienia.
The Black Road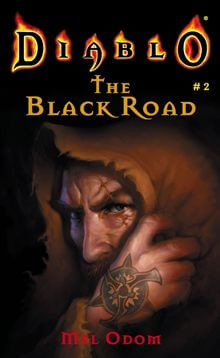 Tytuł oryginału: The Black Road
Polski tytuł: Czarna Droga
Autor: Mel Odom
Data wydania: 2 kwietnia 2002
Liczba stron:360 (eng), 348 (pol)
Opis: Wiele lat temu Darrick Lang opuścił Bramwell, by wędrować przez świat jako najemnik i bohater krainy. Teraz wraca do miasteczka, które kiedyś znał. Jednak Bramwell nie jest już takie, jakim je zapamiętał. Coś mrocznego i przerażającego zniewoliło mieszkańców, coś bardzo starego i cierpliwego, wikłając niewinnych w sieci zła i profanując samą ziemię. Teraz ta sama moc wzywa Darricka... a jego jedyną nadzieją może być pójście niebezpieczną ścieżką potępienia.
Legacy of Blood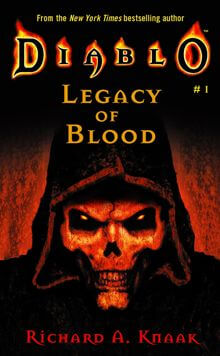 Tytuł oryginału: Legacy of Blood
Polski tytuł: Dziedzictwo Krwi
Autor: Richard A. Knaak
Data wydania: 1 maja 2001
Liczba stron:355 (eng), 384 (pol)
Opis: Norrec Vizharan stał się żywym koszmarem. Poszukując magicznych skarbów, najemnik odnalazł artefakt przekraczający jego najśmielsze marzenia: starodawną zbroję Bartuca, legendarnego Krwawego Władcy. Lecz tajemnicza zbroja jest przeklęta i przelewa złą moc w udręczoną duszę Norreca. Ścigany przez demony pożądające jej dla własnych celów, Norrec musi pokonać z trudem powstrzymywaną żądzę krwi i dowiedzieć się prawdy o ciążącej na nim klątwie, nim na zawsze pochłonie go mrok...
Demonsbane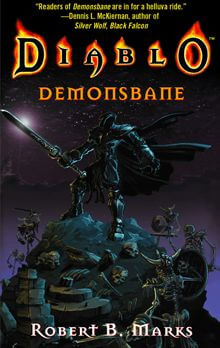 Tytuł oryginału: Demonsbane*
Polski tytuł (nieoficjalny): Plaga Demonówi
Autor: Robert B. Marks
Data wydania: październik 2000*
Liczba stron:121
Opis: To co miało być zwycięskim, ostatnim punktem oporu przeciw demonicznej inwazji na Entsteig przemieniło się w istocie w masakrę. Siggard - jedyny który przeżył bitwę o Entsteig, niezdolny do przypomnienia sobie ostatnich godzin bitwy - pragnie zemsty za zabitych, przez armię ciemności, towarzyszy. Podczas polowania na demoniczną armię Siggard dowiaduje się powoli prawdy o tej przerażającej bitwie... I odkrywa że jego koszmar dopiero się zaczyna.
*Książka dostępna formacie pdf jako e-book. 8 lipca 2008 roku Demonsbane zostało wydane w formie papierowej i zostało dołączone do pakietu opowiadań Diablo Archive.
Diablo: Sword of Justice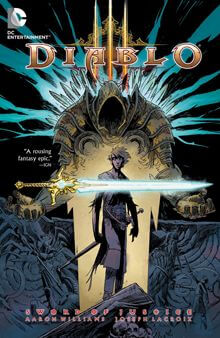 Tytuł: Diablo: Sword of Justice
Polski tytuł (nieoficjalny): Diablo: Miecz Sprawiedliwości
Autorzy: Aaron Williams, Joseph Lacroix (Illustrations)
Data wydania: 3 lipca 2013 (Edycja kolekcjonerska zawierająca 5 częsci) (#1 - 23.11.2011, #2 - 18.01.2012, #3 - 21.03.2012, #4 30.05.2012, #5 29.08.2012)
Liczba stron: 128
Opis: Set in the world of Blizzards award-winning video game franchise Diablo, witness the birth of a hero!
Jacob has fled from his homeland in the north led by the visions of an ancient prophet. Jacob finds his destiny in the sword of an archangel - Tyrael. But will Jacob be able to claim the sword that could save his people from a deadly plague before he's brought to "justice"?
Tales of Sanctuary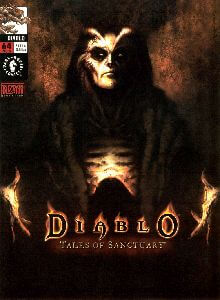 Tytuł oryginału: Tales of Sanctuary*
Polski tytuł (nieoficjalny): Opowieści z Sanktuarium
Autor: Phil Amara, Dave Land, Francisco Ruiz Velasco
Data wydania: 9 listopada 2001
Liczba stron:64
Opis: Z pomocą "Diablo: Opowieści z Sanktuarium" wejdź do świata, którego wszystkie ziemie zostały skażone przez zło. Znajdziesz tu trzy opowiadania zawierające dawkę horroru, akcji i przygody. Spotkaj postacie znane z gry komputerowej Diablo! Towarzysz Barbarzyńcy Renitowi i Nekromancie Cairze w poszukiwaniach Legendarnej "Ręki Nazy" mogącej zniszczyć armię demonów. Poznaj Paladyna o imieniu Hale, walczącego ze złem, które spowoduje, że Hale zacznie zastanawiać się nad sensem swojego życia. Zobacz jak druid Azgar walczy w obronie swej wioski i stara się zapanować nad swymi dzikimi mocami. Ilustrowane przez mistrza komiksu - Francisco Ruiza Valasco, "Diablo: Opowieści z Sanktuarium", nie tylko zaspokajają twoje pragnienie przygody, ale zostawią cię błagającego o jeszcze.
*Uwaga: Jest to komiks (papierowy). Oficjalnie nie został przetłumaczony na język polski (aczkolwiek w sieci istnieją nieoficjalne tłumaczenia).
Poniżej znajduje się alternatywna okładka komiksu Tales of Sanctuary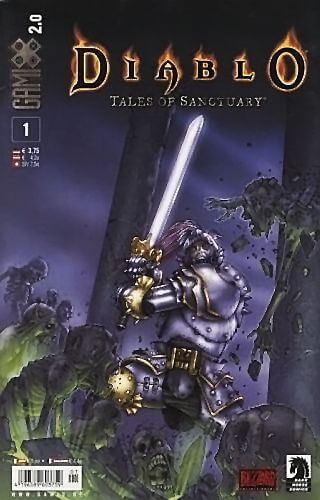 Stay Awhile and Listen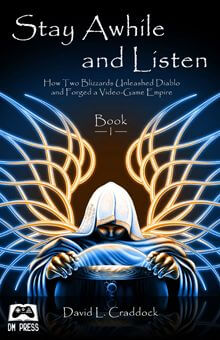 Tytuł oryginału: Stay Awhile and Listen: How Two Blizzards Unleashed Diablo and Forged a Video-Game Empire
Autor: David L. Craddock
Data wydania: 31 października 2013
Liczba stron:399
Opis: Dwie firmy. Dwie przeciwstawne kultury. Jedno wielomiliardowe imperium gier wideo.
Stay Awhile and Listen: Jak dwa Blizzrady wypuściły Diablo i wykuły imperium gier wideo - Księga 1 zaprasza czytelników, by odkryli pochodzenie Blizzard North, studia stworzonego przez graczy dla graczy oraz Blizzard Entertainment, zejście się projektantów chcących zawładnąć tą branżą.
Złożona z wyczerpujących poszukiwań i setek osobistych wywiadów, seria Stay Awhile and Listen opowiada o przeznaczonym spotkaniu, które zbliżyło obydwa Blizzardy do siebie, zgrzytach które ich od siebie oddaliło i ich transformacji z rdzennej demokracji w korporacyjne imperium. A w centrum tego wszystkiego - Diablo, przygoda hack-and-slash przez najciemniejsze zakątki piekła, która na zawsze odmieniła gry internetowe.